The Command to Sing! Singing is a characteristic of life in the body of Christ. Singing is the highest form of human expression!
About this event
Have you ever thought about the biblical command to sing? It's not really optional for a Christian. The Bible says "Sing!" Over and over, dozens of times, we are commanded to sing: sing to the Lord, sing praises, sing joyfully, sing a new song. Come into God's presence with singing. The command to sing may be repeated more frequently than any command in the Bible except the one to love.
I like the instruction in James 5:13 (NIV): "Is any one of you in trouble? He should pray. Is anyone happy? Let him sing songs of praise." Of course we know we are commanded to pray. But we are also commanded to sing.
Singing together as a congregation binds us together. Back in the 4th century, Bishop Ambrose of Milan said, "It is a powerful bond of unity when such a great number of people come together in one choir…when all sing in the fellowship of the Holy Spirit." Singing in church is for EVERYONE, not for the musical elite or for the talented. Making a joyful noise is good enough if it's the best you can do.
HTOF, extends an invitation to you to be apart of the Community Gospel Choir. Let us sing to one another in hymns and psalms and spiritual songs, and let us sing and make music in our hearts to the Lord. The praise of God which finds its concrete culmination in the singing of the community is one of the indispensable forms of the ministry of the church. Indispensable!
When singing a hymn or song together, we become participants rather than observers of worship. Singing gives us an opportunity to make ourselves really and truly present—to "step into the room" and take an active part. We become givers as well as receivers. We give our individual voices to the whole ensemble –thus demonstrating first-hand how "the whole is greater than the sum of its parts." When done with confidence and enthusiasm, this totality of sound created by the group—combined with each individual contribution, voice by voice—moves us from simply being those who attend worship to those who experience worship. This is the beauty and power of congregational singing—a special time to be actively involved and contribute.
The Community Gospel Choir rehearsals are EVERY TUESDAY @ 7:45 p.m. and is open to MEN, WOMEN, TEENAGERS AND CHILDREN!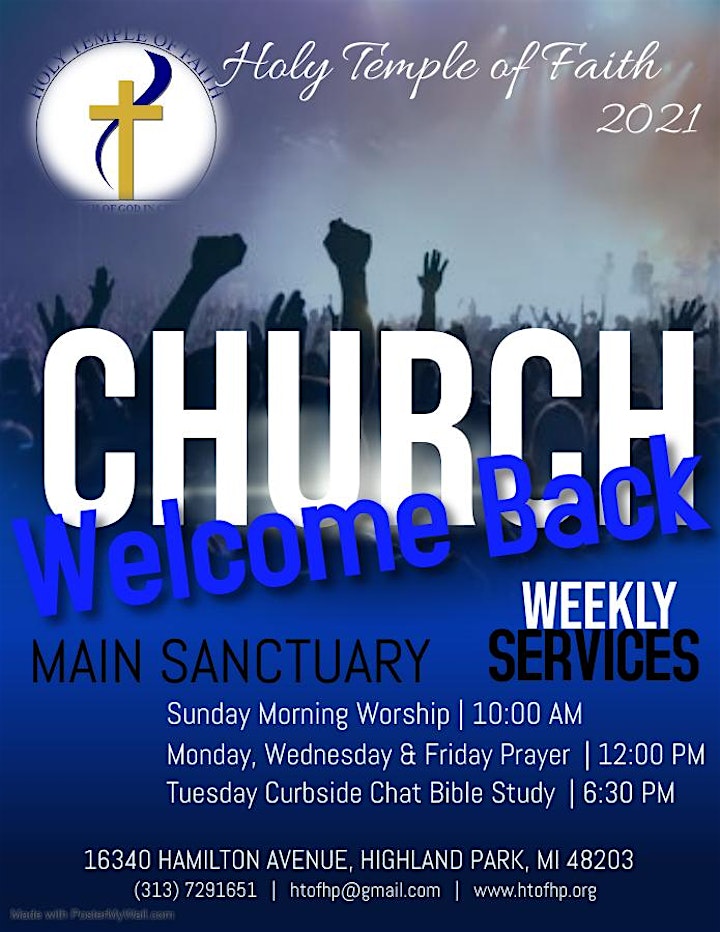 Organizer of COMMUNITY GOSPEL CHOIR
Not Organized Religion...A Real Community for Real People...

Holy Temple of Faith Church of God in Christ is a fellowship of God-followers and God-seekers. We are a church for the unchurched, the de-churched, the hurting. A place of healing and hope. Of acceptance and love. A place where truth changes lives and love transforms hearts.

We don't soft-pedal truth. We don't tell you what you want to hear. We tell you what you need to hear. We're asking Jesus to change ALL our hearts. Continually. We're a safe place to test your faith. A place to connect, make friends, ask real questions and find real answers to the most important questions in life.
We are the church where Love Abides.

Services are as follows:
Sunday: 10 A.M. Morning Worship Experience
Tuesday: 6:30 P.M. Curbside Chat Bible Study Every Tuesday
Monday, Wednesday and Friday Prayer Service at 12 noon