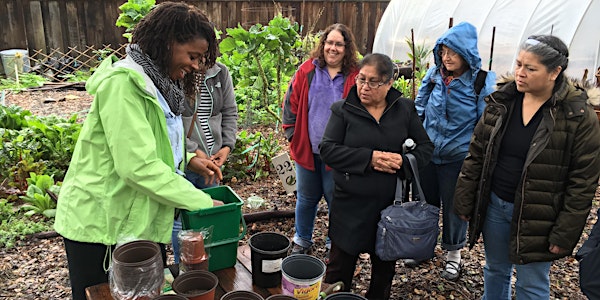 Community Garden Workshops// Talleres de Jardineria Comunitaria
The Collective Roots garden offers free gardening workshops// El Jardin de Collective Roots ofrece talleres gratuitous de jardineria
When and where
Location
1785 Woodland Ave 1785 Woodland Avenue East Palo Alto, CA 94303
About this event
((español abajo))
Our monthly workshops at the Collective Roots Community Garden are a resource for learning everything you need to know about urban and backyard gardening, from managing pests, to crop rotation, to growing in contaminated soil. Through our workshops, we aim to help East Palo Alto families expand their gardening skills and learn to grow sustainable, edible, organic gardens of their own.
September 3rd, 10 am- 12 pm, @ CRCG:
Canning /preservation of your harvest - facilitated by Veronique - guest speaker.
Preserve what you grow! Learn how to collect seeds, and preserve your bounty to enjoy it all year round. Our guest speaker is Veronique, they have exp with canning and food preservation.
October 22, 10 am - 12 pm @ the CRCG:
Greenhouse 101 - Facilitated by Garden Specialist
Living in a mediterranean climate gives us the advantage of being able to grow year round. Start your seedlings for the fall/winter season with the fundamentals of greenhouse growing. You will learn the benefits of growing in a greenhouse space, how to start your seeds and maintain them for optimal health until transplantation. Learn which plants will do well in the colder seasons.
November 5th, 10 am - 12 pm @ the CRCG
End of the Year Celebration, Gardeners Gathering, facilitated by Vera and gardeners
Gather with us as we get together as gardeners to share stories, food, and experiences. We will provide some produce from the farmers market as well as have a harvest party to go around and harvest produce for a collective meal (potluck style).
December 3rd, 10 am- 12 pm, @ the CRCG
Winterizing your garden, facilitated by the garden team
There is a lot you can do to make sure you can grow food year round. Learn how to prepare your winter gardens, by cleaning up and taking out any plants that will not survive the wintertime, and move container plants that are susceptible to frost damage inside. Add mulch, soil amendments, or make a plan to plant cover crops to replenish soil nutrients.
January: No workshops
////Español////
Los talleres mensuales que se presentan en el Jardin Communitario de Collective Roots tienes todos los recursos necesarios para que usted pueda sembrar en sitios urbanos y en su jardin, como el manejo de plagas, a las rotaciones de cultivos, hasta como se puede sembrar en contenedores. Atraves de estos tallers, esperamos ayudar a las familias que viven en East Palo Alto expander su conocimiento y habilidades en la jardineria y que aprendan a cultivar sus propios jardines sostenibles, consumibles, y organicos
Septiembre: 3 de septiembre, 10 am- 12 pm, @ CRCG
Enlatar/preservación de su cosecha- facilitado por Veronique
Preserva lo que ha crecido esta temporada! Aprende a guardar semillas, y a preservar tu cosecha para poder disfrutar el fruto todo el año. Nuestra invitada especial, Veronique, tiene harta experiencia en la preservación y enlatamiento de comida.
Octubre: Sábado 1º de Octubre, 10 AM a 12 PM @ CRCG
Invernadero 101 - Facilitado por specialista de jardineria.
Somos afortunados de vivir en un clima meditiranio que nos brinda la oportunidad de crecer todo el año! Comience sus plántulas para la temporada de otoño/invierno con los fundamentos del cultivo en invernadero. Aprenderá los beneficios de cultivar en un espacio de invernadero, cómo comenzar sus semillas y cómo mantenerlas con una salud óptima hasta el trasplante. Aprenderá qué plantas son resistentes al frío.
Celebración de fin de año, Concurrencia de Jardineros, facilitado por Vera y jardineros
Noviembre: 5 de Noviembre, 10 am- 12 pm, @ CRCG
Uniéndose a la concurrencia de jardineros, compartiremos historias, comida, y experiencias. Proveeremos fruta y verduras del mercado de agricultores de EPA, también cosecharemos de nuestro jardín para poder tener una comida colectiva.
Diciembre: 3º de Diciembre, 10 am- 12 pm, @ CRCG
Prepare su jardín para el invierno, facilitado por equipo de jardinería
Prepare su jardín para poder crecer todo el año. Aprenda lo que se debería hacer en el jardín para la temporada fría que viene pronto. Es importante tomar el tiempo para limpiar sus camas, herramientas, y desechar los desperdicios de plantas que no aguantan el frío. Agregue mantillas, rellene su suelo, o planee sembrar cobertura para reponer los nutrientes en el suelo.
Enero: NO TALLER