Event Information
Location
Unitarian Universalist Congregation at Shelter Rock (UUCSR)
48 Shelter Rock Road
Manhasset, NY 11030
Nassau County's population is graying and growing at a slower rate than ever before. What does this mean and what can we do?
About this event
THE CHANGING DEMOGRAPHICS OF NASSAU COUNTY AND THE COMING CENSUS:
WHAT THEY MEAN FOR YOU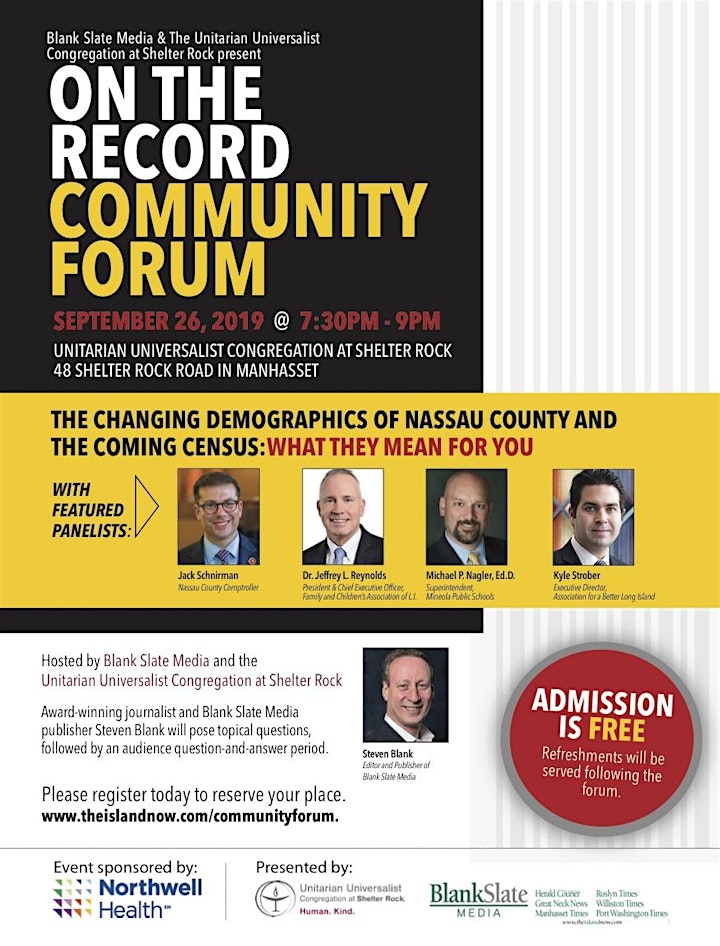 Award-winning journalist and Blank Slate Media publisher Steve Blank will be joined by leaders in government, schools and business for a discussion on the upcoming 2020 census.
There will be a question-and-answer period.
The program is in the Worship Room via the Main Lobby. Refreshments will be served following the forum.
Admission is FREE.
Please register today to reserve your space.
Blank Slate Media is the publisher of 6 newspapers on the North Shore and central Long Island. Our award-winning local coverage has made us the No. 1 read in the communities we cover. With a separate paper for each community, we are able to target our coverage so readers get the news most important to them. For more information, click here: www.theislandnow.com
Date and time
Location
Unitarian Universalist Congregation at Shelter Rock (UUCSR)
48 Shelter Rock Road
Manhasset, NY 11030