Community Forum Opioid Overdose Awareness and Prevention Part 4: Medication...
Description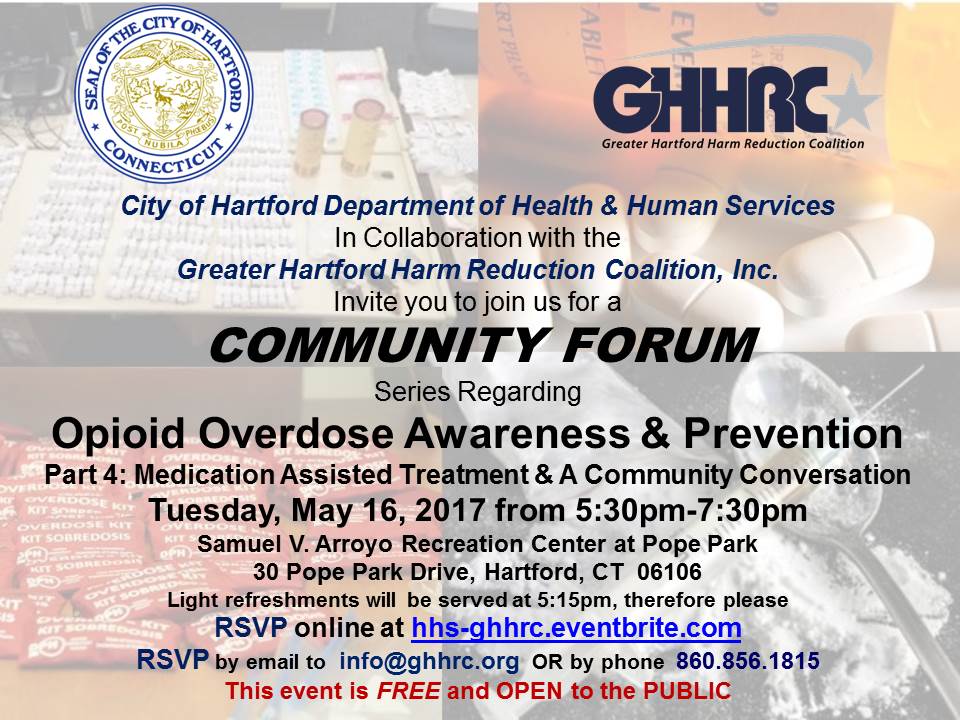 City of Hartford Dept. of Health & Human Services
In Collaboration with the
Greater Hartford Harm Reduction Coalition, Inc.
Invite you to join us for a
COMMUNITY FORUM
Series Regarding
OPIOID OVERDOSE AWARENESS & PREVENTION
Part 4: Medication Assisted Treatment & A Community Conversation
PURPOSE: In connection with National Prevention Week, the 4th and final in the Community Forum Series will be a discussion highlighting Medication Assisted Treatment, the myths and the facts. We will also have a healthy conversation with residents, parents and community stakeholders about the opioid epidemic, its effect locally and statewide.
---
If you ever had a question on how to get help with a substance use disorder or need help accessing services, this is the place to be! Come learn what is being done to address this crisis. ALL are welcome!
---
Tuesday, May 16, 2017 from 5:30pm-7:30pm
Samuel V. Arroyo Recreation Center at Pope Park
30 Pope Park Drive, Hartford, CT 06106
Light refreshments will be served at 5:15pm, therefore please
RSVP using the green register button
hhs-ghhrc.eventbrite.com

For more information
email us at info@ghhrc.org
OR phone 860.856.1815
This event is FREE and OPEN to the PUBLIC

Register and bring your family, friends and colleagues with you!
Don't forget to include them in your RSVP count! Thank you!

El Departamento de Salud y Servicios Humanos de la Ciudad de Hartford
En colaboración con
Coalición de Reducción del Daño de Greater Hartford, Inc.
Les invita que se unan a un
Foro Comunitario
En respecto a:
Prevención y Conciencia Acerca La Sobredosis de Opioides
Parte 4: Tratamiento Asistido para Medicación y Conversación Comunitaria
PROPOSITO: En coneccion con la Semana de Nacional de Prevencion, la final de los Foros Comunitarios sera una discusion acerca de los Tratamientos asistidos con Medicacion, los mitos y los factores. Tambien tendremos una conversacion saludable con residentes, padres, y otros lideres de la comunidad acerca de la epidemia del opio y los efectos de esta a nivel local y estatal.
---
Si has tenido alguna pregunta en como recurrir ayuda con algún desorden de abuso de sustancias, o necesitas ayuda con servicios, este es el lugar para ti! Venga y aprenda de lo que se está haciendo para enfrentar esta crisis.Todos son bienvenidos.
---
Martes, 16 de mayo del 2017 de 5:30pm – 7:30pm
Centro de Recreación Samuel V. Arroyo en el Pope Park
30 Pope Park Drive, Hartford, CT 06106

Refrescos serán disponibles. Por favor de llegar a las 5:15pm
Reservación en línea de computadora:
hhs-ghhrc.eventbrite.com
Para más información
envíenos un correo electrónico: info@ghhrc.org
O llamar: 860-856-1815
Este evento es GRATIS y ABIERTO para el PUBLICIO
Regístrese y traiga a su familia, amigos y colegas con usted!
¡No olvide incluirlos en su cuenta de RSVP! ¡Muchas gracias!