Community Forum Opioid Overdose Awareness and Prevention Part 3: Engagement
Description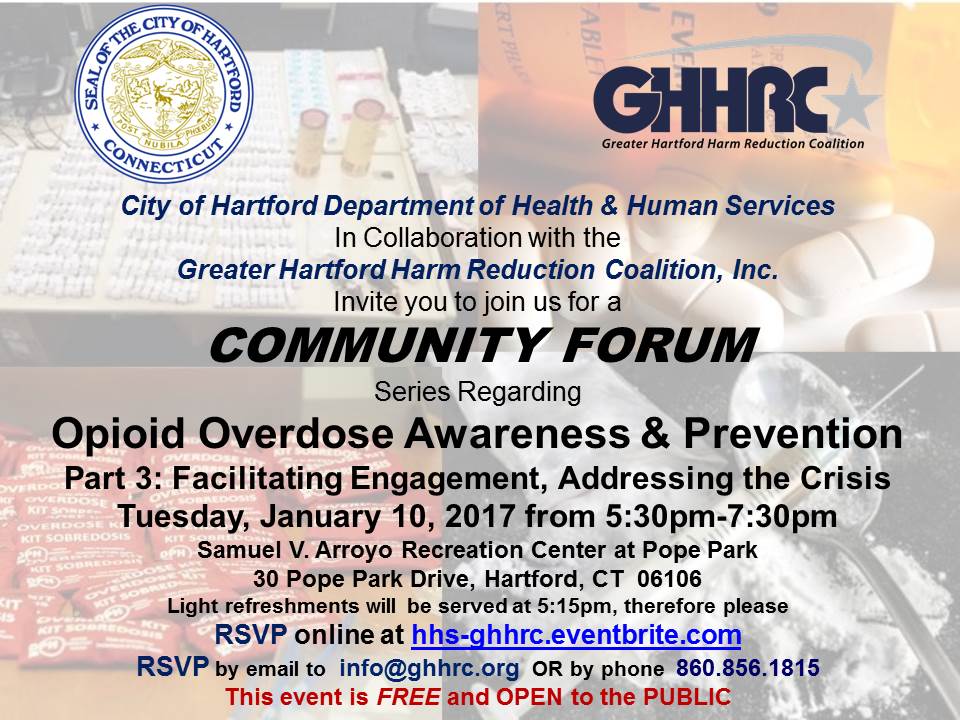 City of Hartford Dept. of Health & Human Services
In Collaboration with the
Greater Hartford Harm Reduction Coalition, Inc.
Invite you to join us for a
COMMUNITY FORUM
Series Regarding
OPIOID OVERDOSE AWARENESS & PREVENTION
Part 3: Facilitating Engagement, Addressing the Crisis

PURPOSE: Part 3 in this Series will explore how various entities are addressing the opioid epidemic; seeking engagement and collaboration outside of normal silos; and empowering those with substance use disorders, along with their impacted families and friends, to affect positive change.
Hartford Police will soon begin carrying Naloxone and will be on hand to discuss an effort to provide timely information to the community, specifically addressing the drug using population.

Emergency Rooms provide acute care, but are now beginning to add Recovery Coaches and other interventions to address the underlying needs of overdose patients.

Recovery Support Services (RSS) funded by the Access To Recovery (ATR) federal grant and The Access Line (800.563.4086) provide a myriad of access points to resources for treatment services.

Neighborhood Pharmacists are reaching out to communities in an effort to make Naloxone more available and provide methods for proper disposal of unused medications.

Faith-Based Organizations are exploring methods to reach their congregations and impacted neighborhoods.

Community-Based Organizations are offering opioid overdose awareness and prevention trainings and dispensing Naloxone.
---
If you ever had a question on how to get help with a substance use disorder or need help accessing services, this is the place to be! Come learn what is being done to address this crisis. ALL are welcome!
---
Tuesday, January 10, 2017 from 5:30pm-7:30pm
Samuel V. Arroyo Recreation Center at Pope Park
30 Pope Park Drive, Hartford, CT 06106
Light refreshments will be served at 5:15pm, therefore please
RSVP using the green register button
hhs-ghhrc.eventbrite.com

For more information
email us at info@ghhrc.org
OR phone 860.856.1815
This event is FREE and OPEN to the PUBLIC

Register and bring your family, friends and colleagues with you!
Don't forget to include them in your RSVP count! Thank you!

El Departamento de Salud y Servicios Humanos de la Ciudad de Hartford
En colaboración con
Coalición de Reducción del Daño de Greater Hartford, Inc.
Les invita que se unan a un
Foro Comunitario
En respecto a:
Prevención y Conciencia Acerca La Sobredosis de Opioides
Parte 3: Facilitación de Participación, Enfrentando a la Crisis
PROPOSITO: La parte 3 de esta serie explorara como varias agencias están enfrentando la epidémica de opioides; buscara participación y colaboración fuera de lo común o normal; y les dará poder a aquellos personas con desordenes de abuso de sustancias, en conjunto sus familias y amigos, para crear cambios positivos.
La Policía de Hartford pronto comenzará a cargar Naloxone y estarán disponibles para discutir los esfuerzos hacia como les proporcionara información a la comunidad, en específicamente a la populación que usa drogas.
Sala de Emergencias proporcionan cuidados agudos, aún están empezando añadir Consejeros de Recuperación y otros modos de intervención para poder enfrentar las necesidades de los pacientes con sobredosis.
El programa Recovery Support Services (RSS) fundado a través de Access To Recovery (ATR) por una beca federal y la línea de acceso The Access Line (800.563.4086) provee puntos de acceso hacia recursos para servicios de tratamiento.

Farmacias de vecindarios están tratando de llegar a las comunidades en un esfuerzo por hacer que Naloxona sea más disponibles y están proporcionando métodos para deshacer de ella apropiadamente.

Organizaciones Basadas en Fé, están explorando métodos para llegar a sus congregaciones y vecindarios afectados.
Organizaciones de La Comunidad están ofreciendo el conocimiento de la sobredosis y entrenamientos de prevención y como deshacer de Naloxona.
---
Si has tenido alguna pregunta en como recurrir ayuda con algún desorden de abuso de sustancias, o necesitas ayuda con servicios, este es el lugar para ti! Venga y aprenda de lo que se está haciendo para enfrentar esta crisis.Todos son bienvenidos.
---
Martes, 10 de Enero del 2017 de 5:30pm – 7:30pm
Centro de Recreación Samuel V. Arroyo en el Pope Park
30 Pope Park Drive, Hartford, CT 06106

Refrescos serán disponibles. Por favor de llegar a las 5:15pm
Reservación en línea de computadora:
hhs-ghhrc.eventbrite.com
Para más información
envíenos un correo electrónico: info@ghhrc.org
O llamar: 860-856-1815
Este evento es GRATIS y ABIERTO para el PUBLICIO
Regístrese y traiga a su familia, amigos y colegas con usted!
¡No olvide incluirlos en su cuenta de RSVP! ¡Muchas gracias!