Community Forum Opioid Overdose Awareness and Prevention Part 2: Treatment
Description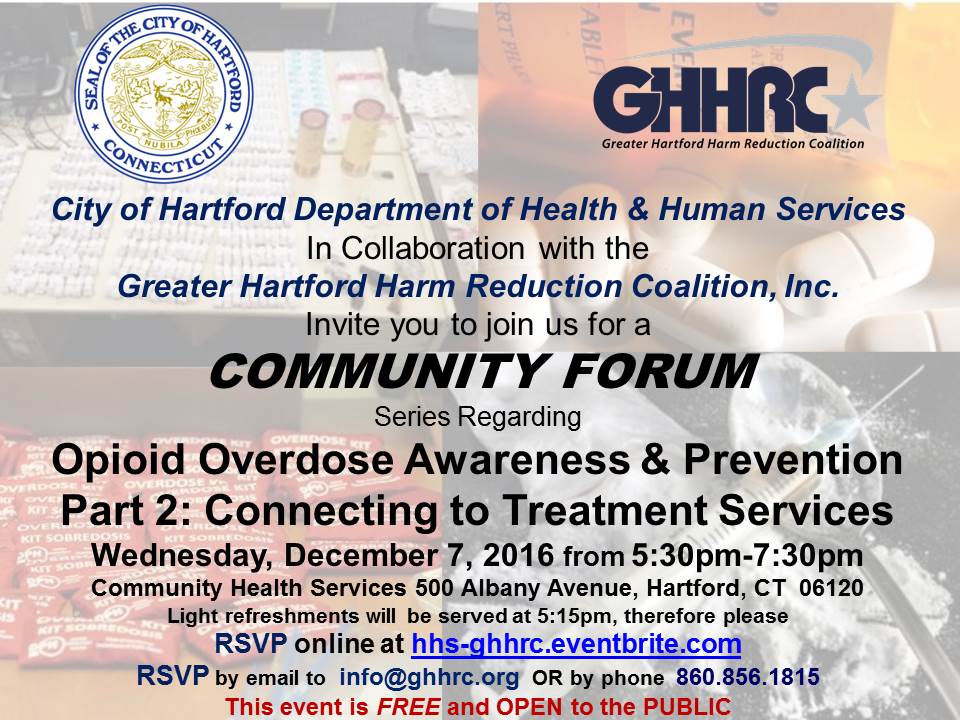 City of Hartford Dept. of Health & Human Services
In Collaboration with the
Greater Hartford Harm Reduction Coalition, Inc.
Invite you to join us for a
COMMUNITY FORUM
Series Regarding
OPIOID OVERDOSE AWARENESS & PREVENTION
Part 2: Connecting to Treatment Services
PURPOSE: Part 2 in the Series brings together a panel of treatment providers who will discuss how they are meeting the increased demand for access to services during a period when accidental deaths by fatal overdose are at an all-time high. City officials will be on hand to discuss the magnitude of the current problem as well as offer preventative measures. A goal of this forum will be to discuss and develop an action plan to address areas of breakdown in service provision. We will also discuss how agencies are responding to the suggestions of the CT Opioid REsponse (CORE) Initiative.
If you ever had a question on how to get help with substance use or need to access services, this is the place to be! ALL are welcomed!
---
Wednesday, December 7, 2016 from 5:30pm-7:30pm
Community Health Services
500 Albany Avenue Hartford, CT 06120
Light refreshments will be served at 5:15pm, therefore please
RSVP using the green register button
hhs-ghhrc.eventbrite.com

For more information
email us at info@ghhrc.org
OR phone 860.856.1815
This event is FREE and OPEN to the PUBLIC

Register and bring your family, friends and colleagues with you!
Don't forget to include them in your RSVP count! Thank you!