Description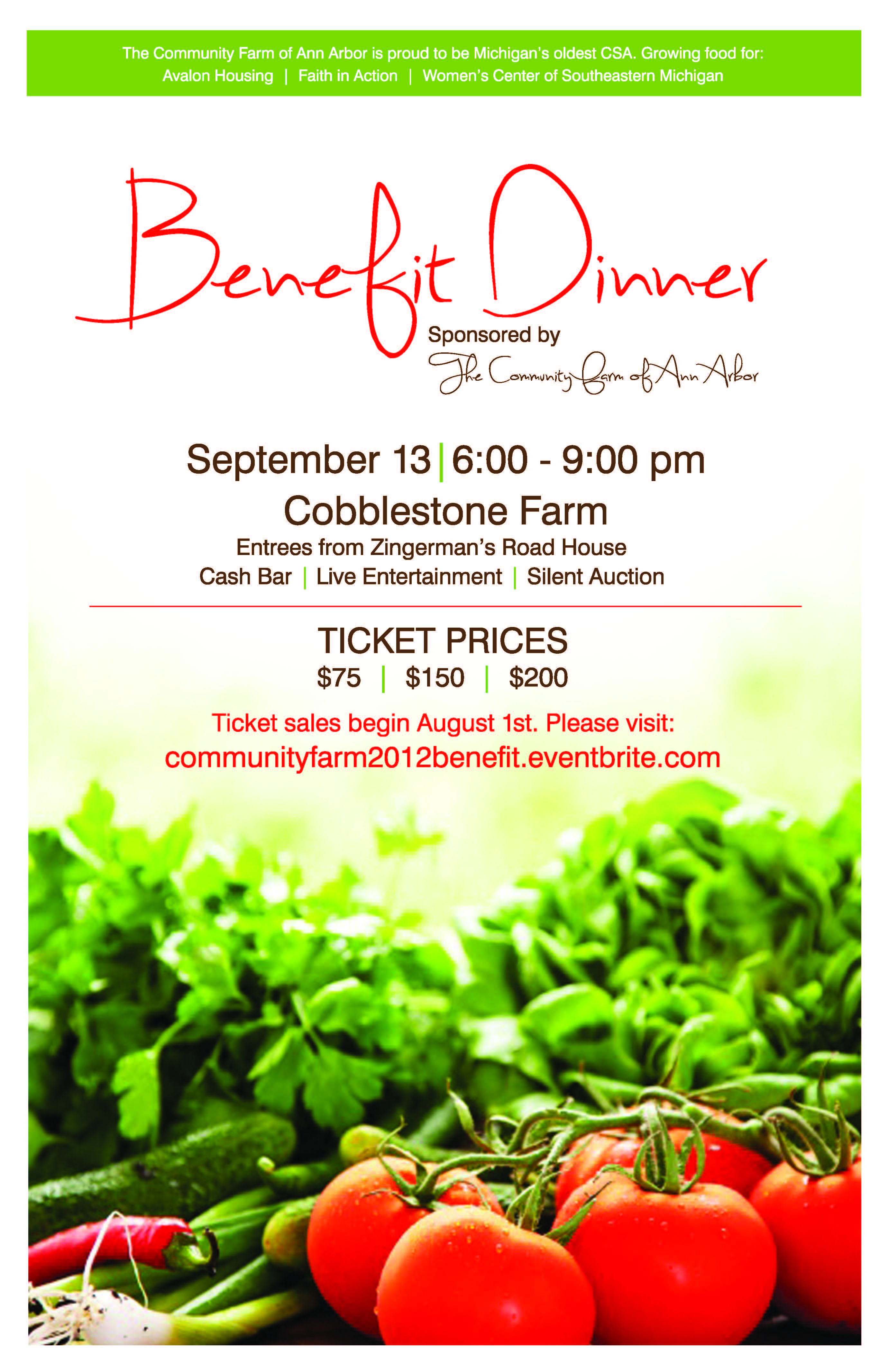 Organizer of Community Farm of Ann Arbor - Benefit Dinner
More Information About Share Recipients:
- Avalon Housing
- Faith in Action
- Women's Center of Southeastern Michigan
---
Local Groups Receive Fresh Produce
Community Farm of Ann Arbor (CFAA) will be sharing produce from its Grand Finale with three local groups based on support raised at a Benefit Dinner on Thursday, Sept 13, 6-9 pm, at Cobblestone Farm, Ann Arbor, MI.  For every $1000 raised, a share will be given to either Faith in Action (a Chelsea/Dexter food bank and resource center serving over 100 families each month), the Women's Center of Southeastern Michigan (a counseling and resource center serving over 600 people a year from 6 counties), or Avalon Housing (Ann Arbor supportive housing serving over 400 tenants at any given time).  Each will receive shares of fall produce for use with their clients.
Community Farm of Ann Arbor will be celebrating 25 years of operation at the Benefit Dinner.   Catered by Zingerman's Roadhouse and CFAA, the dinner will consist of four courses featuring locally sourced food and beverages.  The event will have music provided by Curative Measures of Detroit, MI.  Another feature is a silent auction with items such as a private house concert by San and Emily Solivits (San is part of the local group Gemini), a week's use of an Orlando condo, a 60 minute Personal Attunement session and several gift baskets.  Many of the auction items are unique and one of kind.
For it's 25 years, the Community Farm of Ann Arbor has remained solidly committed to its original goals: to develop a sustainable method of agriculture that yields nourishing food while maintaining and enhancing the health of the soil; to provide a livelihood for the producers, and to create a partnership with the producers and the consumers in which the risks and rewards of farming are shared.
Located at 1525 S. Fletcher Road since 1993, CFAA continues to embrace this land. The improvements made have brought new life to the farm and include:
·         turning 11 acres of fallow ground into composted-cultivated beds, orchard, and rotational grazing pastures
·         running electricity to the barns, giving them new roofs, gutters, and paint, and convincing one of them to return to sitting squarely on its foundations.
·         repairing and refurbishing tractors and various other implements.
·         creating a nearby hay field where we grow biodynamic hay for our animals.
·         sinking a 61 ft. well and laying irrigation lines out to our fields.
·         developing wonderful relationships with other Michigan farmers, some of whom supply us with healthy grain.
·         creating a place for families to meet the plants and animals who nourish them, and to enjoy wholesome recreation together.
·         converting a tractor to solar power and installed solar panels to help wean the Farm from unsustainable dependence on fossil fuels.
CFAA has helped this land emerge from a dormant farm into a healthy active organism where joy and peace are found by many.  Finally this land and the farm have been preserved into the distant future. In April 2004, farm members helped the Washtenaw Land Trust (now the Legacy Land Conservancy) purchase the development rights to the land and signed a long term lease for the farm.
Tickets to the Benefit Dinner are $75, $150, and $200 and can be purchased through EventBrite.  See the CFAA website (www.communityfarmofaa.com) for more info and the link for ticket purchases.  For more information or to support the farm, contact CFAA at CommunityFarmInfo@gmail.com