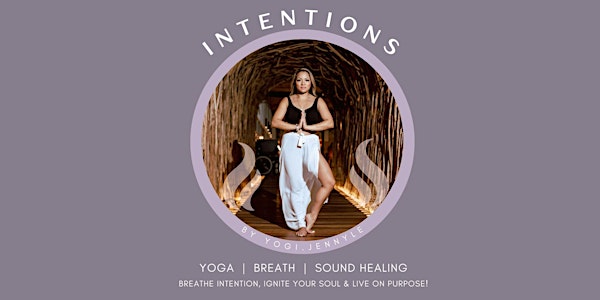 Community & Family Unwind Stretch + Sound Bath Mediation (children 5+)
Welcome, you are invited to join Yogi Jen's blissful 90 minutes of gentle stretches, breath & immersing yourself into a relaxing soundscape.
By Intentions By Yogi.Jennyle
Date and time
Wed, Jun 14, 2023 7:00 PM - 8:00 PM PDT
Location
Emerge Fitness Studio 16793 60 Avenue ##205 Surrey, BC V3S 3X7 Canada
Refund Policy
Contact the organizer to request a refund.
Eventbrite's fee is nonrefundable.
About this event
Yogi.JennyLe's Intentions Signature 90
60 minutes Gentle Movements & Stretch + Sound Healing Meditation
Welcome to Yogi.JennyLe's Deep Stretch & Sound Healing Meditation Class that is designed specifically for the Community! Families and parents are welcome to bring their children (6+ years old) as this is a great opportunity for families to connect with the community and their family members to experience a new activity that promotes wellness physically, mentally & emotionally.
Sound healing is a powerful and therapeutic technique that can be beneficial for families and their children. The soothing and calming effects of sound vibrations can help reduce stress and anxiety, improve focus, and promote better sleep. Many parents are turning to sound healing as a complementary practice to support their child's emotional and physical wellbeing. By listening to calming music or using specific instruments like crystal singing bowls, the ocean drum and various other soothing instruments, this a great way for families to disconnect from their busy lives for a moment to experience a peaceful and nurturing environment. Sound healing can be a fun and interactive activity for kids, encouraging them to explore their senses and connect with the world around them. Overall, sound healing is a gentle and non-invasive approach to promote relaxation and harmony within families, providing a wonderful opportunity for bonding and healing.
In this 1 hour session, you'll experience a unique combination of two powerful healing practices that will leave you feeling relaxed, rejuvenated, and deeply connected to your body.
During the first half of the class, you will be guided through a series of gentle yoga poses, designed to stretch and open up the body. You'll be encouraged to focus on your breath and cultivate a sense of calm and presence.
As you settle into a state of relaxation, you'll be immersed in the soothing sounds of crystal singing bowls, ocean waves, rain and chimes, and other meditative instruments. The vibrations of these instruments penetrate deeply into your body, promoting a sense of calm and tranquility, reducing stress and anxiety, and supporting the body's natural healing process.
This particular class is suitable for all levels and from ages 6+, from beginners to advanced practitioners. No prior experience in yoga or sound healing is required. Yogi Jen's approach is focused on wellness for mental and physical health. The practice of mindfulness and awareness of the body through intentional breathing, movement and sound healing vibrations. All you need is an open mind and a willingness to let go and surrender to the present moment.
Although it is encouraged to bring your children as there are so many benefits to mindfulness movement, stretches, breathing and sound healing for children. Please use your discretion in assessing if this experience is appropriate for your child. If you are unsure, please contact Yogi Jen directly to discuss further.
We kindly request that all guests keeps in mind that this event includes families & children of ages 6+ there may be some interruptions depending on the families and children who are attending. Please be kind, patient, understanding and respectful to each other. If your family is experience a challenging time to settle into the practice or your child feels uneasy as this may be a new experience for your child, it is okay to quietly take a moment outside until your child or family is ready to come back in. We ask that you be mindful of other families to keep any disruptions to a minimal to lessen any impact on other families immersed into the experience.
Please wear comfortable and stretchy clothing that allows for ease of movement and stretching during the class. In addition, please bring a water bottle, a yoga mat, pillow, blanket and any other additional props such as an eye mask and bolsters to stay cozy during the session.
Please join Yogi Jen at 7:00PM on Wednesday June 14th at Emerge Fitness Studio. in Surrey BC, for a relaxing and rejuvenating experience that will help you release tension, unwind, and connect with your inner self.
Spaces are limited, so be sure to reserve your spot now for this unique and transformative experience!
Benefits of Sound Healing Vibrations (aka Sound Bath)
Some of the benefits that you can experience during Sound & Vibrational Healing (Sound Bath):
- Deep relaxation - not only during, but days afterward you'll be better able to manage stress & anxiety
- Increase in immune system function
- Nervous system regulation
- Decrease in depressive feelings
- Improvement in emotional regulation
- Reduced blood pressure
- Enhanced sleep and memory
- Tunes you up to positive mood states
- And more
About Yogi Jenny Le
Through her own personal journey facing adversity in life, Yogi Jen has become an advocate for mental health. Jen has a style that is passionately heartfelt and grounded. She incorporates mindfulness, movement and breathing with intention in her practice to calm the nervous system.
Jen's practices are intended to use the healing benefits of yoga movements, breath work and sound vibrations to help release and let go of what no longer serves you. These practices and movements help to quiet the mind and allow for the body to release stress, tension and transition into a state of tranquility.
Jen has an extensive 20+ years of experience with a variety of therapies and a strong understanding of mental health. As a certified international yoga instructor by Yoga Alliance and sound healer accredited by Sound Quest Academy, she has a high level of empathy and compassion for her students.
Her goals and visions are to help all people, especially those who struggle with mental health, to learn how to self-love, self-care and evolve into the best version of themselves.