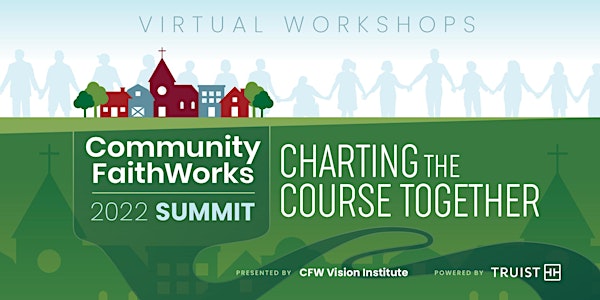 Community FaithWorks - Vision Institute Summit 2022
On behalf of Community FaithWorks, we are excited to invite you to attend the 3rd Annual Community FaithWorks Neighborhood Summit!
About this event
This event will be held on October 8th, 2022 from 9:30am - 2:30pm.
In this Summit, we are Charting The Course Together! Filled with innovative workshops and seminars, the Summit is designed EXCLUSIVELY to empower and fuel our faith-based leaders serving communities of color. Further, a bonus to our faith-based leaders is the opportunity to network and engage with community partners, for potential opportunities to collaborate and impact the communities they serve.
You'll have front row access to learn/hear from POWERFUL ministry leaders, community-based funders & cutting edge speakers as well as have chance/s to take back to your neighborhood valuable community-based gifts.
As we celebrate the graduates of our 2022 Vision Institute Cohort, we will soon be opening applications for our 2023 Cohort! The Vision Institute trains and empowers pastors and their community-based teams throughout South Carolina to revitalize their neighborhoods and impact the underserved in ways they never thought possible. Empowered and equipped, the Vision Institute graduates have the tools to collaborate with funders and economic development organizations to activate projects and initiatives in their own neighborhoods.
Community FaithWorks is one of South Carolina's only statewide non-profits that provides cutting-edge community economic impact training exclusively to pastors and their congregations that serve and represent communities of color.
Are you ready to join in on the mission of empowering your neighborhood?
REGISTER NOW!