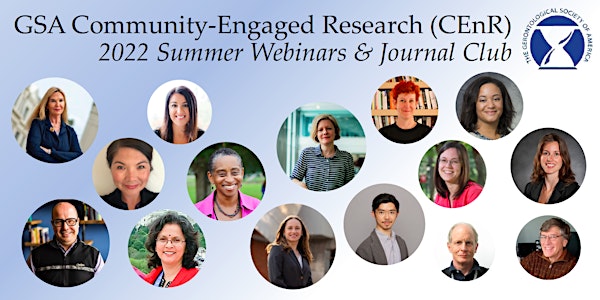 Community-Engaged Research Summer Webinars & Journal Club
The scope and aims of Community-Engaged Research (CEnR) demand a rethinking of common research and community engagement practices. Join us!
About this event
May 11 (11am ET): Community-Engaged Research for Dementia Prevention
Primary (risk reduction), secondary (delaying progression), and tertiary (comprehensive care) prevention of dementia happens largely in the community. But communities are different with varying socio-cultural needs and organizational resources. This webinar presents the Kickstart, Assess, Evaluate, and Refer (KAER) toolkit which attempts to bridge this gap from clinical perspectives, and prevailing needs in community contexts from Indigenous perspectives. Discussion will focus on practical ways forward.
Speakers:
• Professor Patricia Heyn, PhD FGSA FACRM
• Professor Jordan P Lewis, PhD MSW FGSA
Moderator:
Dr Mariko Sakamoto, PhD RN
Jun 13 (11am ET): Community-Engaged Research in Low-Income Contexts
The privileged position and assumptions of researchers often remain unquestioned when involving communities with starkly different socioeconomic statuses. This presents considerable challenges to effectively benefitting the communities we purport to help. This webinar presents experiences of Community-Engaged Research from the perspectives of researcher and community stakeholder, among refugees and/or precariously-housed populations in two cities. Discussion will focus on contextual considerations when conducting research across different communities.
Speakers:
• Professor Sharon Morrison, PhD, & Dr Sudha Shreeniwas, PhD
• Ms Jenny Konkin, Whole Way House
Moderator:
Dr Tetyana Shippee, PhD FGSA
July 13 (4pm ET): Research Participation in CEnR
The scope and aims of Community-Engaged Research (CEnR) demand a rethinking of common research or community engagement practices. This journal club focuses on the above topic and serves as an introduction to methodological articles that will be archived in the CEnR Library. Come ready to share stories and discuss issues on the topic in relation to, or apart from, the assigned readings. We look forward to learning with you!
Facilitator(s): Drs Carrie Leach, PhD / Daniel Gan, PhD
Readings:
• Cornwall, A. (2008). Unpacking 'Participation': models, meanings and practices. Community development journal, 43(3), 269-283.
• Gilmore-Bykovskyi, A., Croff, R., Glover, C. M., Jackson, J. D., Resendez, J., Perez, A., ... & Manly, J. J. (2021). Traversing the aging research and health equity divide: toward intersectional frameworks of research justice and participation. The Gerontologist, gnab107.
Aug 17 (4pm ET): Research Collaboration in CEnR
Readings:
• Greenfield, E. A., Black, K., Oh, P., & Pestine-Stevens, A. (2022). Theories of community collaboration to advance age-friendly community change. The Gerontologist, 62(1), 36-45.
• Sargent, L., Slattum, P., Brooks, M., Gendron, T., Mackiewicz, M., Diallo, A., ... & iCubed Health and Wellness in Aging Transdisciplinary Core. (2022). Bringing transdisciplinary aging research from theory to practice. The Gerontologist, 62(2), 159-168.
Sep 14 (4pm ET): Research Implementation in CEnR
Readings:
• Bauer, M. S., Damschroder, L., Hagedorn, H., Smith, J., & Kilbourne, A. M. (2015). An introduction to implementation science for the non-specialist. BMC psychology, 3(1), 1-12.
• Nelson, G., Kloos, B., & Ornelas, J. (2017). Creating transformative change in community mental health: Contributions from community psychology. In M. A. Bond, I. Serrano-García, & C. B. Keys (Eds.), APA Handbook of Community Psychology: Methods for Community Research and Action for Diverse Groups and Issues (Vol. 2, pp. 377-392). American Psychological Association.