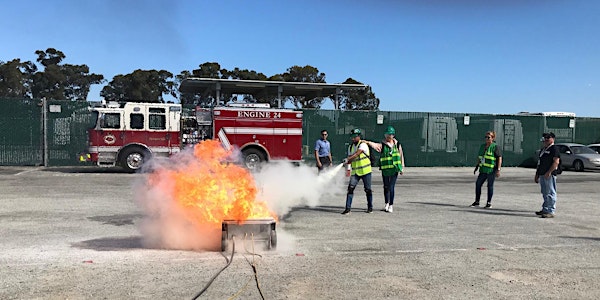 Community Emergency Response Team (CERT) Course
Be prepared in the case of a disaster! SMCFD's CERT Course provides essential emergency preparedness training so you can be ready!
By San Mateo Consolidated Fire Department
Date and time
Starts on Tuesday, March 7 · 6:30pm PST
Location
San Mateo Adult School 789 E. Poplar Ave. San Mateo, CA 94401
About this event
The Community Emergency Response Team (CERT) Course is about readiness, people helping people, rescuer safety, and doing the greatest good for the greatest number.
CERT is a positive and realistic approach to emergency and disaster situations where citizens will be initially on their own and their actions can make a difference. Through training, citizens can manage utilities and put out small fires; provide basic medical aid; search for and rescue victims safely; and organize themselves and spontaneous volunteers to be effective.
San Mateo Consolidated Fire Department CERT is offered for free to residents of Belmont, Foster City, and San Mateo 16-years-old and older. The CERT Course is a series of seven (7) classes, an optional Course Review, an online "at your pace" class, and a "Skills Day" which is a full-day training on a Saturday.
You must complete all 8 meetings (7 classes + Skills Day) and an online supplement, to receive your certification. If you must miss a class, you can make certain classes through the Online CERT curriculum. Any make-ups (and all required items) need to be completed by March 29th.
Meeting Dates for these Tuesday and Thursday evening CERT classes (in-person): March 7, March 9, March 14, March 16, March 21, March 23, March 28, and and optional Review class via Zoom on March 30th.
Date for Skills Day: Saturday, April 1st (this is an all-day event).
Please keep in mind that space is limited. If your plans change, please cancel your registration to make room for another neighbor who's waiting to attend this training.
Class Time : 6:30 PM - 9 PM per evening (Tuesday and Thursday evenings)
Over the course of the CERT program you'll learn the most up to date information through hands-on training in basic disaster preparedness, use of a fire extinguisher, disaster medical care, first aid training, search and rescue techniques, communicating through FRS radios, and neighborhood team building. Participants of the program will learn lifesaving skills, rescuer safety, and doing the greatest good for the greatest number.
CERT Course students will receive access to the CERT Participant Manual, online.
The last class of the series is a "Skills Day." During this extended Saturday training, students will practice the skills they learned in class. This is a very full and fun day, and includes your graduation ceremony and presentation of your membership credentials and CERT equipment backpack (for those who live or work within our jurisdiction).
COVID Safety Protocols will be followed by everyone participating in this course.
As of this moment, Masks are recommended, but not required. Students will be asked to respect physical distancing when in the classroom.
Should there be a surge in COVID cases in our county, we may turn the class into a Hybrid model - online, via Zoom - until it is suitable to meet in-person once again.
Your safety, and that of all our CERTs, is our top priority!