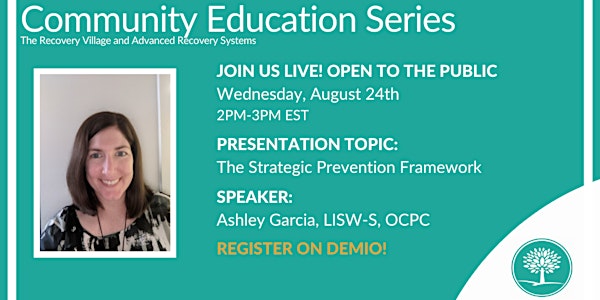 Community Education Series: The Strategic Prevention Framework
Community Education Series: The Strategic Prevention Framework
About this event
PLEASE REGISTER THROUGH DEMIO: https://bit.ly/August24th2022
Speaker: Ashley Garcia, LISW-S, OCPC
The Strategic Prevention Framework is the guiding practice in program planning and evaluation. It is the building blocks for program delivery. This course will outline the SPF process and detail how to utilize data to assess need, readiness, and program outcomes.
Objectives:
1. Highlight the building blocks of successful prevention programs with steps to program planning.
2. Outline the Strategic Prevention Framework that is the evidence based process that frames and guides prevention work.
3. Distinguish the different types of data that are used in prevention and when they are needed to ensure the Strategic Prevention Framework steps.
4. Discuss the value that focus groups as a data source brings to prevention planning.
Time: 2PM-3PM EST
No credits will be provided for attending this training. Our Community Education Series is open to the public and anyone interested in learning more about addiction and other mental health topics. Note: These webinars are not accredited by the NBCC and are not eligible for continuing education hours.