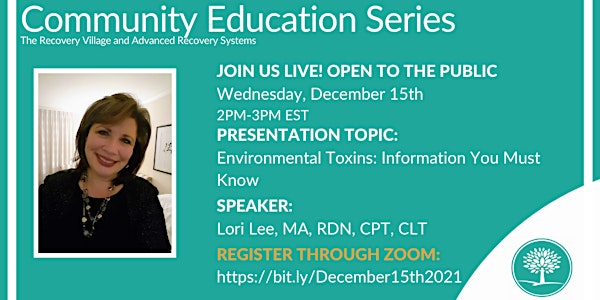 Community Education Series: Environmental Toxins- Information You Must Know
Community Education Series: Environmental Toxins- Information You Must Know
About this event
PLEASE REGISTER THROUGH ZOOM: https://advancedrecoverysystems.zoom.us/meeting/register/tJ0vdOuqrzIiGdaCD-Bq-udr7FsQpBhvNflX
This live webinar will enable the audience to thoroughly understand the problem of environmental toxins such as: heavy metals (lead, mercury, aluminum, arsenic), pesticides, herbicides (like Glyphosate), fungicides, insecticides, mycotoxins (from mold) and other toxins. A review of the sources and health effects of these toxins will be presented. Scientific solutions and proven methods for toxin reversal will be presented as a means for treatment. This may very well be the most important topic in the medical community in our lifetime as these toxins accumulate in the brain, bones and fatty tissue of the human body and wreak havoc if not treated. We must heal our cells in order to get well!
Speaker: Lori Lee, MA, RDN, CPT, CLT
About the Speaker:
Lori Lee is a Registered Dietitian Nutritionist (RDN) specializing in Functional Medicine and cellular health. Lori has spent her entire lifetime and a 30 year award winning career in private practice helping to educate and empower her patients to take control of their health and live life to the fullest. She has owned 3 wellness centers and is currently the owner and Executive Director of The Wellness Center of Northwest Jersey located in Chester, NJ. Lori holds a Bachelors and a Masters Degree in Nutrition and is on the Board of Directors of the Exercise Science Dept of the County College of Morris for the past 6 years. Lori is a frequent guest speaker and expert in Environmental Toxins and Metabolic Health. In 2020, Lori presented her research at IFM (Institute of Functional Medicine) and MHS (Metabolic Health Summit) and was awarded the prestigious ketone technologies award.
Objectives:
1. To educate on the problem of environmental toxins in our world
2. What are the top 7 most dangerous toxins
3. What is the biological, physiological and psychological impact of these toxins
4. What is the main toxin on our food supply and how to reverse it
5. Help to understand the scientific solution that is the only way to reverse toxins
6. What is 'redoxing'
7. How to provide hope for your patients and loved ones
Time: 2PM-3PM EST
No credits will be provided for attending this training. Our Community Education Series is open to the public and anyone interested in learning more about addiction and other mental health topics. Note: These webinars are not accredited by the NBCC and are not eligible for continuing education hours.
Organizer of Community Education Series: Environmental Toxins- Information You Must Know