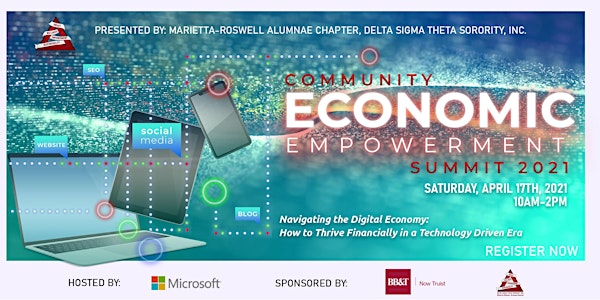 Community Economic Empowerment Summit 2021
Navigating the Digital Economy: How to Thrive Financially in a Technology Driven Era
About this event
This online event will provide insights on how to thrive in 2021 as digital technology continues to transform business and society. Here is an overview of the days sessions:
SESSION I
Success in the Digital Economy: Money Mentality and Online Investing
An interactive session cultivated to guide first-time investors through online investing platforms while strengthening investment mentality. This engaging session will have participants comfortable enough to start investing in minutes.
SESSION II
Utilizing Technology to Benefit our Physical and Mental Health
Thriving in a digital economy has various facets. Session II explores the benefits that technology can have on our physical and mental health. This session will include a closer look into telehealth visits and online health tools such as the Weight Watchers app.
SESSION III
Digital Influencing: Using Technology to Change the Game
Learn how to navigate bumps in the road and pivot your business and customers to a digital platform. Entrepreneurs will gain an understanding of digital tools available that will assist with business marketability. This information-filled session will address new avenues for company funding and creating innovative marketing strategies. This session will also illustrate how the digital economy influences how we conduct our charitable giving.
SESSION IV
Realigning customer acquisition tactics using digital marketing techniques
This session will help business owners (and want-to-be owners) learn to develop a media strategy that aligns with the goals of their company. Entrepreneurs will gain an understanding of media terms and digital tools that are available to assist their company's marketability. Business owners will leave with a guide for starting or improving their digital media marketing campaign.