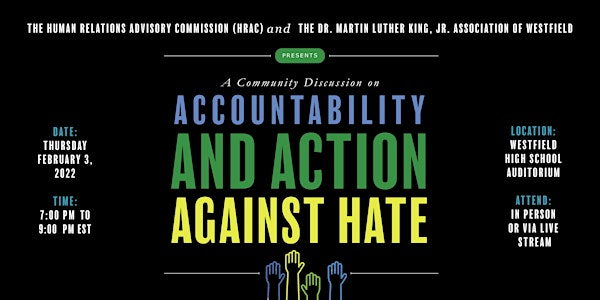 Community Discussion on Accountability and Action Against Hate
Location
Westfield High School
550 Dorian Road
Westfield, NJ 07090
Join local leaders to talk about the issues of hate that Westfield has experienced. Discuss actions to ensure hate has no home here.
About this event
The Westfield Human Relations Advisory Commission (HRAC) and the Dr. Martin Luther King, Jr. Association of Westfield, are pleased to invite you in-person or via live stream to this Community Discussion on Accountability and Action Against Hate.
Are you concerned about incidents of hate (e.g., swastikas, racial slurs) in Westfield? Are you ready to engage in a discussion with our local leaders about what we can do to disrupt hate?
Please join us for this Community Discussion on ways to promote inclusion and disrupt racism and all forms of hate. The theme of this event is Disrupt Hate – Working Toward an Inclusive Westfield. The objectives of this discussion are to reflect on recent incidents of hate and discuss actions that all residents can take to create an inclusive Westfield.
The event will feature a short video: Resident Experiences: Hate Has a Home in Westfield and a distinguished panel of speakers, including:
Christopher Battiloro, Westfield Police Chief
Pamela Brug, MD, Dr. Martin Luther King, Jr. Association of Westfield
Dr. Raymond González, Superintendent of Westfield School District
Ed Israelow, Former President of the Metro NJ Chapter of the American Jewish Committee
Rev. Jeremy Jinkins, Senior Pastor, The Presbyterian Church in Westfield
Kim Leegan, Social Studies & Humanities Teacher, Westfield High School
Maureen Mazzarese, Director of Counseling Services, Westfield School District
There will be time for questions from the audience and you will also be able to submit questions ahead of time when you register. Please cut and paste the following to submit questions for the panelist before the event: bit.ly/3dLjCEq
You are welcome to attend in person or via live stream (link will be sent before the event). Masks and vaccinations are required for in-person attendance.
Preregistration is strongly encouraged, but walk-ins are welcome. Doors open at 6:30 pm.
Join us: Disrupt Hate – Working Toward an Inclusive Westfield