Description
Are you prepared for a disaster?


Have you ever thought about what you or your family would do if there was an public emergency?
Register to attend a free Community Disaster Preparedness workshop presented by the City of Dallas, Office of Emergency Management to learn more about:
- Different types of disasters or public emergencies
- Meanings to outdoor warning sirens and alternative ways to receive emergency alerts
- How to plan for an emergency
- How to build a emergency supply kit
- How you can participate in your Community or Dallas Emergency Response Team (CERT / DERT)

This workshop will cover several planning exercises so do bring your immediate family members or community and/or HOA members to create a plan together. Their input can be very valuable towards these planning exercises. Please register each person that will be attending.
Each participant will also receive a free portable emergency preparedness kit.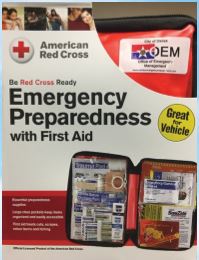 Workshops will be held at Audelia Road Branch Library (Dallas Public Library System) on:
Tuesday, Oct. 3, 2017 from 5:00 PM to 6:30 PM
Saturday, Oct. 14, 2017 from 12:00 PM to 1:30 PM
FAQs (Frequently Asked Questions)
---
Will these two workshop dates contain different materials?
No, each will have the same material presented. The only difference is that one workshop is offered during the week night and the other during the weekend afternoon.
How can I contact the organizer with any questions?
For question regarding the informational contents of the workshop contact Dallas Office of Emergency Management at (214) 670-4275 or email: OEM@dallascityhall.com. If you have questions regarding registration or anything else, please contact the adult services librarian, Liz Kwan, at elizabeth.kwan@dallascityhall.com or by calling (214)670-1350.