Description
Memphis Community Development Book Club -
Part I
A community that reads together, grows together. Readers, practitioners, and interested community members gather to not only read books but to also share how Memphis can benefit from the lessons granted from each reading. Join us for the next Community Development Book Club, where we'll discuss Richard Rothstein's novel called "The Color of Law: Forgotten History of How our Government Segregated America."
Good Reads Synopsis
In this groundbreaking history of the modern American metropolis, Richard Rothstein, a leading authority on housing policy, explodes the myth that America's cities came to be racially divided through de facto segregation—that is, through individual prejudices, income differences, or the actions of private institutions like banks and real estate agencies. Continue reading... more.
Access Books in Memphis City Library
# of Books in Library Inventory: Call # 305.800973R847C
Locations available
(1) History Department

(1) Gaston Park

(1) North Branch

(1) Crenshaw
Schedule for this Read: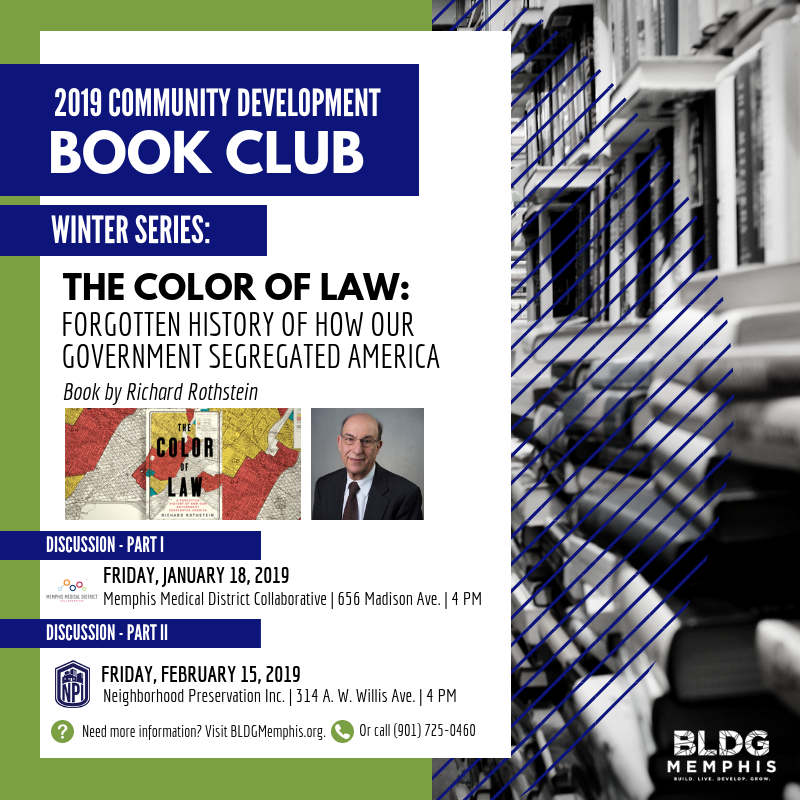 Questions, Comments or Concerns?
Email us at info@bldgmemphis.org.