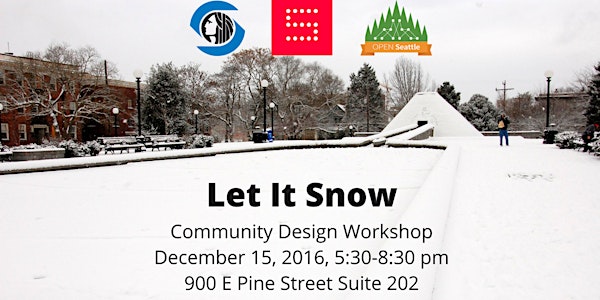 Community Design Workshop: Let It Snow!
By Civic Technology Program, City of Seattle
Date and time
Thursday, December 15, 2016 · 5:30 - 8:30pm PST
Location
Substantial 900 East Pine Street #202 Seattle, WA 98122
Description
The City of Seattle is seeking technology users of all backgrounds as well as designers and developers for a community design workshop on how we communicate with the public in the event of a snow-related emergency. The workshop will be hosted by Substantial, a Seattle-based digital product studio, and facilitated by Open Seattle, a community organization focused on addressing civic issues via technology.
Mayor Ed Murray and Substantial CEO Jeremy Borden will welcome participants. The City will give an overview of the City's snowstorm response plan, the current Winter Weather Map, and the open data that is available for building new applications. Following that, we will split into groups, and Mathias Burton from Open Seattle will facilitate a two-part workshop to surface ways the City could better meet Seattle residents' information needs.
Beverages, snacks, and all required materials will be provided during this workshop. Participants are expected to bring only your curiosity and willingness to participate. Space is limited to a maximum of 30 participants, split roughly between people who build technology and a representative sample of Seattle residents.
PLEASE NOTE: For this event, an RSVP is not a guarantee. While we hope to be able to accommodate everyone, our goal is to design for the diverse range of Seattle residents and their needs. We reserve the right to prioritize attendees from underrepresented groups. We will notify guests by December 12 if your RSVP is confirmed. Thank you for your understanding. If you have questions about this event, please contact civic.tech@seattle.gov.

Background photo courtesy Audrey on Flickr: https://www.flickr.com/photos/moohaha/3118306573/
About the organizer
The Civic Technology Program is part of the Digital Engagement division of Seattle IT. Ideas explored via the City's Civic Technology Program may not necessarily be implemented by the City.