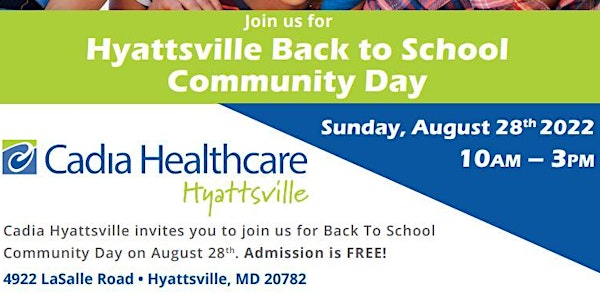 Community Day & Back to School Festival
Cadia Hyattsville's First Ever Community Day and Back to School Bash held on the beautifully manicured 2 Acre Park on facility grounds.
When and where
Location
4922 Lasalle Rd 4922 Lasalle Road Hyattsville, MD 20782
Refund Policy
Contact the organizer to request a refund.
Eventbrite's fee is nonrefundable.
About this event
Cadia Hyattsville is opening its Park to the neighboring community to celebrate Back to School, Family and Friends of Healthcare workers, and showcase local small businesses and artisans. Cadia is a world-class provider of Skilled Nursing Care with locations in Mid-Atlantic States, Delaware and Maryland. Cadia's Hyattsville location is one of the most medically capable and complex skilled nursing facilities on the East Coast. Hyattsville is organizing a Community Day to demonstrate its commitment to the greater community and its neighbors in Prince Georges County and North East Washington D.C. The event is designed to provide a leg up for school aged youth by donating quality backpacks and school supplies, making the idea of returning to school exciting and fun with a whirlwind of activities, prizes, food and a festive atmosphere. Cadia Hyattsville also intends to connect constituents with goods and services from community businesses large and small while showcasing upcoming small businesses and providing opportunities for growth and brand recognition. Lastly, Cadia Hyattsville is inviting its residents, staff and friends and family of both to join in the festivities as a Thank You for being such vital members of the Cadia Family.
Acerca de este evento
Cadia Hyattsville está abriendo su parque a la comunidad vecina para celebrar el regreso a clases, la familia y los amigos de los trabajadores de la salud, y exhibir las pequeñas empresas y artesanos locales. Cadia es un proveedor de clase mundial de atención de enfermería especializada con ubicaciones en los estados del Atlántico Medio, Delaware y Maryland. La ubicación de Cadia en Hyattsville es uno de los centros de enfermería especializada con mayor capacidad médica y complejo en la costa este. Hyattsville está organizando un Día de la Comunidad para demostrar su compromiso con la comunidad en general y sus vecinos en el condado de Prince Georges y el noreste de Washington DC. El evento está diseñado para ayudar a los jóvenes en edad escolar mediante la donación de mochilas y útiles escolares de calidad, lo que hace que la idea de la vuelta al cole emocionante y divertida con un torbellino de actividades, premios, comida y un ambiente festivo. Cadia Hyattsville también tiene la intención de conectar a los constituyentes con bienes y servicios de empresas comunitarias grandes y pequeñas mientras muestra las próximas pequeñas empresas y brinda oportunidades de crecimiento y reconocimiento de marca. Por último, Cadia Hyattsville está invitando a sus residentes, personal y amigos y familiares de ambos a unirse a las festividades como agradecimiento por ser miembros tan vitales de la familia Cadia.