Community Cookout with Ankit Chopra: Epic Chutney!
Description
ABOUT THIS EVENT
In this community cookout, expect surprises! We are making fresh chutney (or pickle or some other dish) from unexpected ingredients rescued from streetside stores at Little India one day before! The food collection is done prior by a small group from Foodscape Collective and Lien Centre for Social Innovation, with support of SG Food Rescue's Little India Veggie Collection team.

Ankit of Eat Me Chutneys is in town for a few days. He rescues insane amount of food in Sydney, creates chutneys out of rescued food, and used to come up with entire meals on the fly based on rescued food for homeless people in London. We thought to do a community cook-out with rescued food when he's here.

Chutney is delicious as a dip and side dish - and a great way of introducing vegetable portions to those who don't eat vegetables.n Come learn how chutney (or pickle or other dish) can be made from the unexpected ingredients. Engage him on his experience with incorporating social- and wonky food-stigma into social enterpreneurship, transforming culture.

This community cook-out is organised as part of the Impacthon: Food Justice happening this weekend. Huiying, Hanzhong and Cuifen from Foodscape Collective are organising this with Jinwen, Terence and team from Lien Centre for Social Innovation, with support of SG Food Rescue (on the food rescue part) and New Green Pasture Cafe (for the cooking and dining space).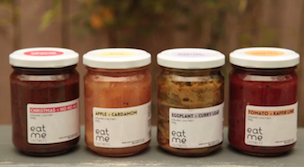 THE COMMUNITY WE HOPE TO SEE AT THE EVENT
We are not actively promoting this event to others as we want priority to go towards participants of this weekend's Impacthon: Food Justice, as well as community members in Foodscape Collective and SG Food Rescue.


EVENT FEE
The event fee is $12. It covers the basic rental cost for use of the training space at Green Pasture Cafe, which serves vegetarian dishes with a twist (and roll). It is located in the historic Fortune Centre in the Rochor/Bugis district, well known for its vegetarian restaurants and younger restaurants well frequented in the evenings.

On EventBrite, you will see the cost as $13.11. The additional cost goes towards the EventBrite platform.

Any monetary or support in kind for social initiatives Foodscape Collective and SG Food Rescue will be very appreciated, and can be made on the day.


MORE INFO ON ANKIT
After a short stint at L'Astrance (a Parisian restaurant consistently ranked among the 50 best restaurants in the world), Ankit founded multiple food-related startups in London, Wellington (New Zealand), and Sydney, including Eat Me Chutneys. He has been making super delicious chutney and pickle from fruits and vegetables saved across the city of Sydney, as well as conducting community cooking classes. He is invited to mentor at the Startup Genesis Programme at the University of Sydney, and is social-entrepreneur-in-residence at INSEAD.