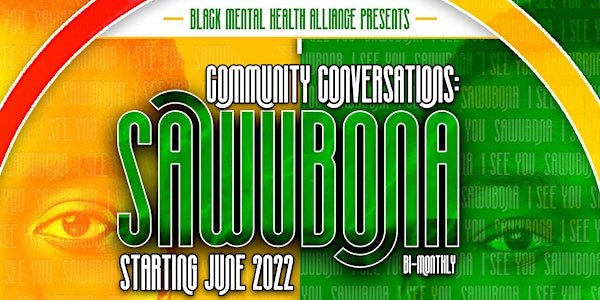 Community Conversations: Sawubona series
Community Conversations: Sawubona series
About this event
It is through the power of community connection and conversation that we honor humanity, counter the narrative, ignite healing and restoration around the many experiences that often cause Black folks to feel unseen as we navigate life. This event is not a seminar; presentation or townhall. It is an opportunity for collective learning, conversation and transformation. Each month we will also include various mindfulness and meditative movements into each discussion. Hope you will join the conversation for an opportunity to heal and renew the mind and body.
Event is geared towards 18 y/o & older
Please note some events will be hybrid. Details will be shared in confirmation email.
June - "Black Minds Matter" (hybrid)
July - "Food Apartheid & Mental Health (hybrid)
August - "Colorism... Beyond The Skin I'm In" (in-person)
September - "Blight & Mental Health" (Zoom)
October - Employment & Mental Health (hybrid)
November - "Medical Apartheid & Mental Health" (hybrid)
Questions, contact Nia Jones - njones@blackmentalhealth.com