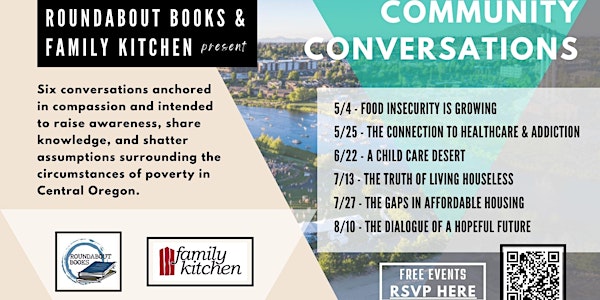 Community Conversations, presented by Roundabout Books & Family Kitchen
Six conversations anchored in compassion and intended to raise awareness, share knowledge, and shatter assumptions about poverty.
Date and time
May 4 · 6:30pm - August 10 · 8pm PDT
Location
Roundabout Books 900 Northwest Mount Washington Drive #110 Bend, OR 97703
About this event
98 days 1 hour

Mobile eTicket
**If events are sold out, please email events@roundaboutbookshop.com for options**
Six conversations anchored in compassion and intended to raise awareness, share knowledge, and shatter assumptions surrounding the circumstances of poverty in Central Oregon.
Series Description
We are all neighbors here, experiencing many of the same pressures, loves, sadnesses, hopes, struggles, dreams, and joys. Though we all want to help each other in need, we also come from different backgrounds, experiences, and living situations, and it's natural to make assumptions about an issue when seen through the lens of our personal histories. The complexity of the problems surrounding poverty affect us all and the health of our community, but they're also often misunderstood and can feel insurmountable. Roundabout Books and Family Kitchen are partnering in the hope of creating the time and a safe space to listen to each other, while broadening our understanding of the issues.
The purpose of this series is to share the knowledge of local experts and nonprofits, including those with lived experience, and to hear from the people who work tirelessly to support our most vulnerable community members. The goal of this series is to raise awareness and increase our understanding through an open dialogue of these topics in a compassionate, non-partisan, non-threatening environment. We welcome the public to any or all of the following conversations.
Series Format
Each topic will be led by three expert panelists who have related experience in the community, and a facilitator who will navigate the conversation through prepared questions. Their associated organizations are listed below under each event. There will be time reserved at the end of each conversation for audience questions. We emphasize the compassionate and respectful terms of the series and towards our speakers. They are here to provide an opportunity for listening and learning.
Series Reservations:
This series is free to the public. We are asking for RSVPs in order to plan for attendance, communicate any last minute changes, or follow up with materials for you easily. There is limited seating.
Series Conversations/ Schedule of Events
Food Insecurity is Growing, Thursday, May 4th @ 6:30pm
Panelists: NeighborImpact Food Program Coordinator, St Vincent de Paul Food Pantry Representative, Family Kitchen
Facilitator: NeighborImpact Food Program Director
The Connection to Healthcare & Addiction, Thursday, May 25th @ 6:30pm
Panelists: Mosaic Community Health, Deschutes County, BestCare Treatment
Facilitator: FUSE
A Child Care Desert, Thursday, June 22nd @ 6:30pm
Panelists: HeadStart, Child Care Operator, Small Business Owner/Operator
Facilitator: Storydwelling
The Truth of Living Houseless, Thursday, July 13th @ 6:30pm
Panelists: Deschutes County Street Outreach, REACH (Safe Parking Case Management), THRIVE
Facilitator:J Bar J
The Gaps in Affordable Housing, Thursday, July 27th @ 6:30pm
Panelists: Central Oregon Villages, City of Bend Affordable Housing Department, Shepherd's House
Facilitator: EPIC Property Management
The Dialogue of a Hopeful Future, Thursday, August 10th @ 6:30pm
Panelists: TBD
Facilitator: TBD
About the organizer
Located in the heart of Bend's NorthWest Crossing Community, Roundabout Books is a full-service independent bookstore. We take tremendous pride in our highly curated selection of new adult and children's books. We also carry a variety of greeting cards, journals, puzzles & games, and related gifts. Our in-store café serves locally-sourced snacks, coffee, tea, wine, and beer for you to enjoy during your stay, and our bookstore offers Free Wi-Fi as well as several cozy chairs and coffee tables.
Roundabout Books is an independently owned bookstore and cafe founded by local resident Cassie Clemans, a former teacher and business owner. The bookstore opened on October 31, 2016. Her vision is to enhance the life of our community by providing a warm and comfortable place where people of all ages are welcome to read, browse, shop for books, meet a friend, or enjoy an event.
The Roundabout Team works hard to plan regular events that are of interest to our community. We host weekly author readings and signings where you can meet your favorite authors in person. We host several book clubs, which are open for anyone to join on a drop-in basis. They meet monthly and include a variety of genres. Twice monthly we bring Storytime to our kids corner for the little ones to enjoy, and often we have children's authors reading in the store on Saturdays. Join us!