About this Event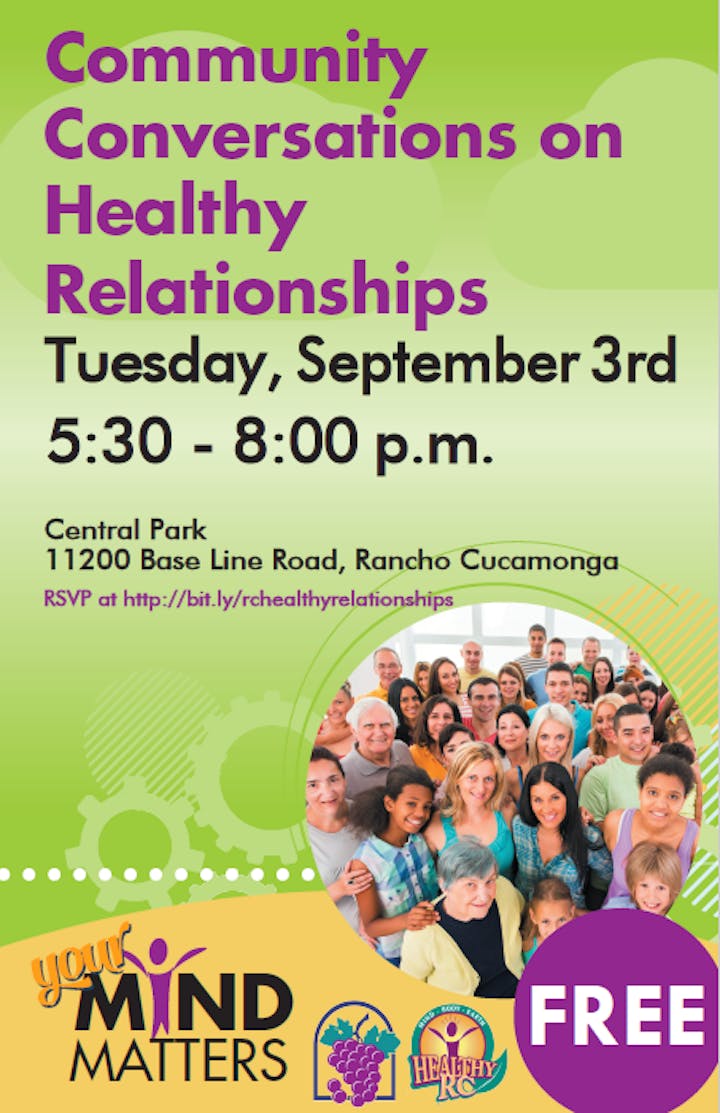 Mental health was identified as a community health priority by the Rancho Cucamonga residents during the Strategic Planning process. The Healthy RC Mental Health Subcommittee develops strategies and initiatives to de-stigmatize mental health and direct resources available through the Your Mind Matters mental health awareness mental health campaigns and symposiums. Community members are invited to engage in dialogue and take action in building a positive culture of mental health that is free from stigma.
Join us for an evening of Community Conversations on Mental Health on Tuesday September 3rd from 5:30-8 p.m. at Central Park, 11200 Base Line Road
You and your loved one are invited to a free community conversation on how healthy relationships impacts your mental health. Listen to powerful community testimonials about overcoming mental health challenge and seeking support. Take part in small group discussions on starting the conversation of finding mental health services to support your relationships. Be prepared for an inspiring night of storytelling and connecting with your neighbors.
Explore and Learn
• The tools and resources on how to build healthy relationships presented by a mental health service provider.
• Panel Discussion: Hear firsthand stories about mental health challenges
• Small-group discussions on building healthy relationships how to take the first step in seeking mental health services.
• Mental health services and resource fair
Dinner and childcare will be provided. Spanish translation available, contact 909-774-2044 to requests other languages.