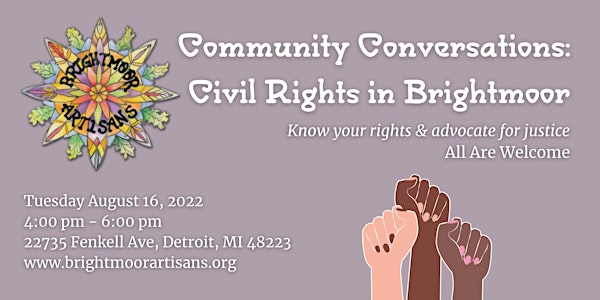 Community Conversations: Civil Rights In Brightmoor
Know Your Rights & Stand Up For Justice!
When and where
Location
Brightmoor Artisans Collective 22735 Fenkell Avenue Detroit, MI 48223
About this event
Exercise your right to gather by joining your neighbors at BAC Cafe After Hours for a FREE information session on Civil Rights in our community.
Topics include:
- Your right to protest & how to do so legally
- The rights of minors in school settings & how to advocate for your student
- Your rights if interacting with law enforcement
- Advocacy resources if your rights are violated
Bring a friend or bring your family -- Light refreshments will be served & all are welcome!
Brightmoor Artisans Collective is working to create a space where community members can safely and creatively work and learn together to process, market and consume affordable and healthy food using a holistic, wellness-based approach. We envision an equitable, sustainable and local economy based on healthy, locally grown and crafted goods.