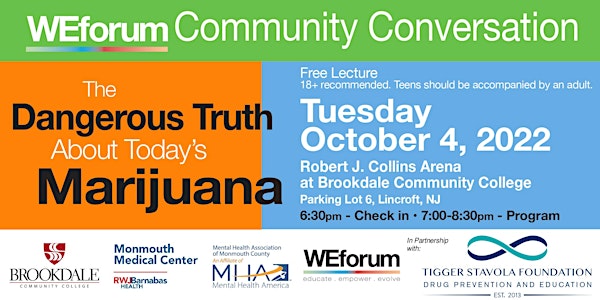 Community Conversation: The Dangerous Truth About Today's Marijuana
Join us to learn about the high-potency marijuana used by today's youth and how it may lead to mental illness and and psychosis.
When and where
Location
Robert J. Collins Arena @ Brookdale Community College Arena Drive Parking Lot 6 Lincroft, NJ 07738
About this event
In partnership with the Tigger Stavola Foundation, Monmouth Medical Center, Mental Health Association of Monmouth County
"I want you to know you were right. You told me marijuana would hurt my brain. It's ruined my mind and my life, and I'm sorry. I love you." - Johnny Stack to his mother, three days before he died.
Johnny Stack was born on February 7, 2000, and died tragically on November 20, 2019, at the age of 19. He was an intelligent, funny, charming, handsome young man. He was from an average suburban family and did every day family things. He had a happy life, a 4.0 GPA with a college scholarship, and a family who loved him very much. Unfortunately, they lived in Colorado, the first state to legalize marijuana, in 2014 when Johnny was 14 years old.
Johnny dabbed for years, starting at age 14 as a freshman in high school at a party. Do you know what "dabbed" means? Not everyone does. Do you understand the difference between smoking cannabis flower and dabbing high-THC concentrates, such as wax, oil, shatter, or budder (not a typo)? If you've never even heard about this or If you don't know what cannabis concentrates are, and you have children, grandchildren, sisters, brothers, nieces, and nephews between the ages of 14 and 24, plan to join us on Tuesday, October 4th, at the Robert J. Collins Arena, Brookdale Community College starting promptly at 6:30 p.m.
Laura Stack has built her career as a keynote speaker for over 30 years. She is a bestselling author of eight productivity books and was a corporate spokesperson until it all came to a screeching halt when her son Johnny died after becoming psychotic from dabbing high-THC marijuana concentrates.
Her platform now brings education, awareness, and prevention curriculum to parents, drug prevention conferences, community groups, and schools to stop youth marijuana use. She is a powerful speaker who brings Johnny's warning and solid research together in her new book, The Dangerous Truth About Today's Marijuana: Johnny Stack's Life and Death Story. Described as a force of nature with unstoppable drive and unwavering purpose, Laura is determined to get teens to #StopDabbing.
TIME: Registration begins at 6:30 pm. Seminar begins promptly at 7:00 pm with Laura Stack and guest panel speakers Thomas A. Arnone, Monmouth County Board of Commissioners and Sheriff Shaun Golden.
Q&A: 8:00-8:30 pm
COST: FREE.