Panel discussion follow-up to Nidhi Gulati's presentation on 3/24/21, "Transport & Mobility."
About this Event
Join us for a panel discussion on Zoom!
We will continue to discuss the intersection of transportation, mobility, and building a just community + how Nidhi Gulati's 3/24/21 lecture can be applied in our region.
FEATURING
Bob Williams (Program Manager of Active Transportation, Genesee Transportation Council)
Pete Nabozny (Vice President, Reconnect Rochester)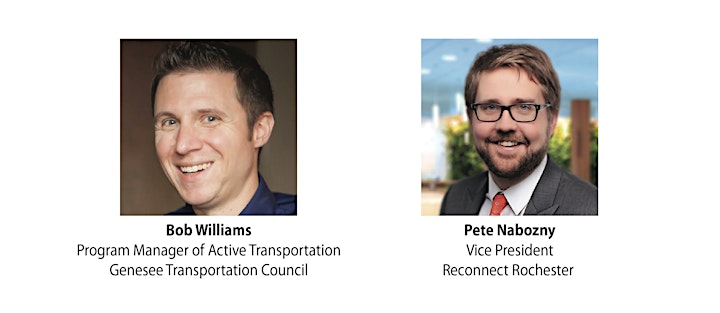 All are welcome, even if you didn't attend the Gulati event! We do suggest watching the event recording in advance.
Recording of Gulati's virtual lecture and Q&A: coming soon!
*You will receive a link to join the webinar upon registering.
ACCESSIBILITY:
*This webinar will automatically include closed captioning that can be turned on and off by each attendee.
*During registration, there will be a spot for you to provide any additional accessibility accommodations you may need to fully participate in this virtual event (such as ASL interpretation). The Design Center will follow-up with you.
__________
Our Community Conversations allow attendees of Reshaping Rochester events to gather together (virtually !), debrief the most recent speaker topic, and discuss how the ideas and strategies can be applied to our very own Rochester, NY.