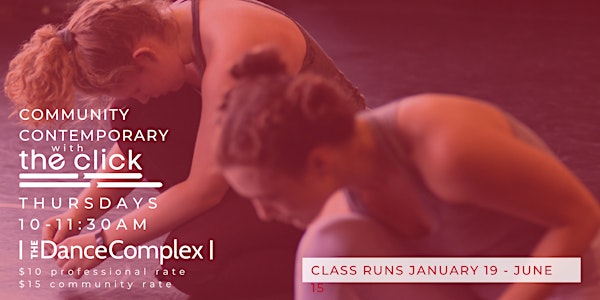 Multiple dates
Community Contemporary
Train with The Click with this rotating roster of contemporary dance classes designed for all levels of movers.
Date and time
January 19 · 10am - June 15 · 11:30am EST
Location
The Dance Complex 536 Massachusetts Avenue Cambridge, MA 02139
About this event
Community Contemporary is rooted in The Click's mission to redefine rigor. Yes: dance can be highly technical and physically demanding. And yes: art can be very intellectual and nuanced. But most importantly: contemporary forms can be all of this, and more... and we can have FUN while we explore all of it. That is the type of rigor we are looking for.
Community Contemporary is an opportunity for all levels of movers to dive into improvisation, technique, and play while fostering relationships new and old, thus creating and/or expanding their creative community. If you are looking for a supportive environment to animate and excite the tiny inner child dancer within you: this class is it, regardless of your prior experience with dance.
This class series will be taught alternately by Alexandria Nunweiler and Angelina Benitez. Please see class schedule and individual class descriptions below.
*This program is presented in collaboration with The Dance Complex and is supported in part by funding from the Cambridge Community Foundation.
Schedule:
January 19: Alex
January 26: Angie
February 2: Alex
February 9: Angie
February 16: Alex
March 2: Alex
March 9: Alex
March 16: Angie
March 30: Angie
April 6: Alex
April 13: Angie
April 27: Angie
May 4: Angie
May 18: Alex
May 25: Alex
June 1: *Kristin! (super special change up)
June 8: Angie
June 15: Angie
About the Classes:
IMPROVISATIONAL PLAY with ANGELINA BENITEZ
This Click Class with Angie will focus on generating movement through games and exercises. We'll question: How can we value "play" in our training? We'll move individually and as a group as we navigate a variety of improvisational exercises and prompts. All levels & all bodies are welcome.
JAM with ALEXANDRIA NUNWEILER
This class fights for your right to party. Led by curiosity, JAM pulls from contemporary and modern techniques to get all bodies moving to their internal rhythm with the intention to better understand what we are doing inside and outside of ourselves. You can expect improvisational play, juicy floorwork, maybe a few swear words, and a killer playlist.
About the Instructors:
Angelina Benitez graduated from Salem State University with a B.A in both Modern/Contemporary Dance and has since studied at Bates Dance Festival and continues to study with local Boston-based artists. Her choreography at Salem State was presented at Boston's American College Dance Association Conference and earned her a Presidential Arts Scholarship and a Creativity Award in Dance. Angie has immersed herself in teaching dance in the Greater Boston area at local studios, schools, and residencies. Her recent performance experience includes local arts festivals and events such as Verse / Visual, 24 Hour ChoreoFest, Salem Arts Festival, Art Walk with Luminarium, and more. Much of her work is focused on collaboration. When she's not teaching dance, you can find her working as a social media strategist, creating fiber art, and taking pole dance classes.
Alexandria Nunweiler is a contemporary choreographer, performer, administrator and educator based in Boston, MA. Her movement, described by Dance Informa as "grace with power," is rooted in history, human experience, and the fine line between darkness and humor. Alexandria earned her B.A. in Dance from Winthrop University where her thesis "Valhallveien" represented the university at the American College Dance Festival Southeast in 2014. She also holds her MSc in International Business from Hult International Business School, studying in both Boston, MA and Shanghai, China. As a choreographer, Alexandria's work has been featured up and down the east coast in the Philadelphia Fringe Festival, BOOM Fringe Festival, Dance Complex's A Drop in the Bucket, NACHMO Boston, and the Charlotte New Music Festival Dance Co-Lab, among others. She also co-produces the annual series 'CURE8' alongside collaborator Ashlea Sovetts, which premiered in 2022 in Cambridge, MA. Alexandria's work has been funded through New England Foundation for the Arts, the South Carolina Arts Commission and Alternate ROOTS. In performance, Alexandria works within The Click, performing in works devised by Kristin Wagner, (Survival Aesthetics) and Lonnie Stanton (Emotive Land)and with the Alive Dance Collective as the Director of Development, performer and choreographer. Her past performance work has been alongside Brian Feigenbaum, Tony Guglietti, THE MARK dance company, Martha Connerton/Kinetic Works, and staibdance. As an educator, Alexandria holds space for intuitive learning and dives deeply into improvisation as a mode of movement understanding. She currently teaches at Creative Steps Dance Studio in Newton, MA and is a recurring guest artist at Dance Theatre of Greenville in South Carolina. Alexandria also holds her 200 RYT which she brings into both the yoga and dance practice spaces as a framework for how she shows up.
About The Click:
Developed in 2021, The Click is a collaborative dance company and creative collective in Greater Boston. Its members are dancers whose primary medium of physical expression is through contemporary dance forms, but who experiment in many modes and genres of creativity. As a collective, The Click's members are each deeply invested in answering the universally complex question: who am I and what am I doing here?
The Click contributes to the consistent presence of creativity in Boston and beyond in several ways: by educating pre-professional youth dancers, professional adult dancers and the dance-curious of any age; performing original creations several times a year at traditional and non-traditional venues across Massachusetts, New England and beyond; and by investing in the curiosity of those new to dance in Boston or new to dance in general by maintaining an open, inclusive and accessible community.
Follow us on Instagram: @the.click.boston