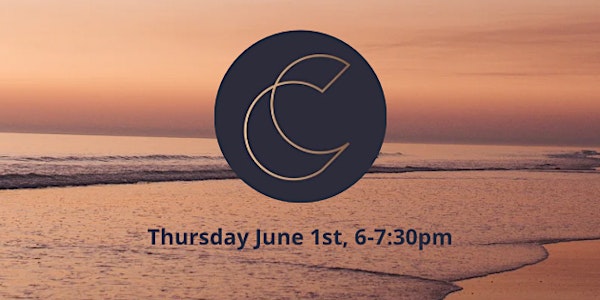 Community Constellations: a family constellation workshop
Community Constellations are experiential therapeutic group workshops that invite us to see more clearly the threads of our shared humanity.
By Licensed Therapist, Chelsea Green
Date and time
Thursday, June 1 · 6 - 7:30pm EDT
Location
30 Mary Murray Dr 30 Mary Murray Drive Charleston, SC 29403
About this event
1 hour 30 minutes

Mobile eTicket
Unlock the power of your family system: experience Community Constellations today!
Community Constellations are immersive experiential workshops facilitated by Licensed Therapist & Owner of Anu Beginning Therapy, Chelsea Green.
If you're struggling with relationship issues, trauma, emotional challenges, or career dilemmas, the solution may lie in your family system. It might seem odd, or too far out to consider true for yourself... but that's where Community Constellations comes in. Using the tool of family constellations and the eclectic nature of Chelsea's professional background and skills, these monthly groups can help you tap into the deep wisdom of your family system and find healing, insight, clarity, and purpose.
Through Community Constellations, Chelsea Green is committed to providing a safe and supportive space for you to explore your family dynamics and discover the hidden patterns that may be holding you back. Her approach is rooted in empathy, compassion, and respect for your unique journey.
When we are too close to a situation, we can't see it clearly.
WHERE?
This event will take place at on Thursday, June 1st, from 6pm to 7:30pm at
Hampton Park Gazebo (nearby on park grounds)
30 Mary Murray Drive, Charleston, SC 29403
WHAT TO BRING?
- bug spray, sunglasses, or other preferred outdoor accessories
- blanket or other seating accomodation to increase your comfort (ex. camp chairs or beach chairs)
WHAT'S IT LIKE?
Community Constellation sessions begin with a brief introduction and mindfulness meditation to get grounded into our bodies.
Our mindfulness meditation is followed by a brief conversation between facilitator and one or more group members who volunteers to explore an issue/problem for that session. During this conversation, the facilitator seeks to understand the client's intention for the session.
Once the facilitator has gathered enough information to begin, the volunteer client is invited to choose representatives from the group for the family members or factors that are relevant to the situation. This sometimes looks like the client asking another participant if they would be willing to stand in and represent different members of their family system.
What begins to develop is an external representation of the client's family or other system. From here, what was previously an internal image begins to draw out insights for the client, and the group as a whole.
As the constellation progresses, new insights and information may emerge as the facilitator guides the representatives to explore different areas of the client's system. These sessions typically come to a resolution by finding the image or shape that restores order, a sense of safety, love, strength, or gratitude within the client and other group members is common.
WHY?
This work helps us all feel more connected and closer to the kind of humanity we all desire & deserve. Join like-minded and open-hearted members of your community for a shared healing experience that aims to be accessible to all.
Tickets are always free, but spots are limited & donations are accepted.
Donations between $5 and $50 are welcome via VENMO at @communityconstellations
Please call/text Chelsea if you have any trouble locating the group: (423)946-3879
________________________________________________________________________________________
IMPORTANT PARTICIPANT AGREEMENT:
I understand that this workshop/course may bring up issues of a highly personal nature that may cause me to experience emotional or physical responses that may be unexpected and/or unpleasant. I understand that I may experience mental, emotional, physical, or spiritual distress and that such distress may cause unpleasant feelings. What is experienced in this workshop may create physical responses on my part or on the part of other participants. I understand that there is the risk of injury or emotional distress. I agree to assume this risk, including but not limited to the types of responses described. I confirm that I do not currently suffer from any mental or physical impairment that might make it inadvisable for me to assume such risks.
This workshop is not a substitute for therapy or a substitute for any other form of professional consultation.
By claiming my ticket, I agree to the preceding statements and to hold harmless from all liability, the facilitator, Anu Beginning Therapy, those from whom space is being rented, and all participants and observers attending this event.
Thank You.
Have a question or concern?
Email Chelsea directly at communityconstellations@gmail.com
About the organizer
Community Constellations are monthly pop-up immersive workshops facilitated by licensed therapist & practitioner, Chelsea Green.
What are constellations? Community Constellations are inspired by the foundational healing work of Family Constellations, which arose out of Bert Hellinger's life experience in Germany and his integration into the Zulu tribe's healing rituals of South Africa.
The term 'constellations' arise from the way these sessions look from a distance. Although workshop attendees are often strangers, participants may be chosen by the identified client to temporarily represent their parent, sibling, grandparent, significant other, boss at work, and a current or past struggle.
If there is an intention of constellations, it is only to help participants get in touch with the resources they need to create the changes they want in their own life.
We come to Community Constellations not to learn something new or receive what we don't already have, but to experience ourselves and one another in a new way. Often, these sessions are transformational for both participants and bystanders.
No experience needed, only an open mind & open heart.