Community Concepts presents Don Campbell, An Evening of Dan Fogelberg Music
Actions and Detail Panel
Community Concepts presents Don Campbell, An Evening of Dan Fogelberg Music
Fri, October 21, 2016, 8:00 PM – 11:00 PM EDT
Description
Join Community Concepts for our inaugural fundraising event featuring the Don Campbell Band for An Evening of Dan Fogelberg Music.


If you have any questions about the event, please call Elizabeth Haffey at 781-915-4384, as she will not be available by email or desk phone today.
General admission tickets just $25 per person
VIP tickets SOLD OUT
VIP ticket holders enjoy an exclusive pre-event reception beginning at 5pm, featuring hors d'oeuvres and wine in the intimate balcony overlooking the beautiful Agora Grand, followed by an exquisite 4-course dinner with wine pairings! All VIP ticket holders will enjoy premium seats at the concert following dinner.
All proceeds from the show go to support the programs of Community Concepts, a non-profit providing resources to help local families and businesses move forward.
Don Campbell is a singer-songwriter, composer, and multi-instrumentalist whose music is inspired by sources as diverse as the Celtic and Canadian Maritimes music of his family to Dan Fogelberg, Vince Gill, the Beatles and novelist, Stephen King.
Singer-songwriter and multi-instrumentalist Dan Fogelberg was a multi-platinum selling artist, with hits such as "Leader of the Band", "Longer", "Same Old Lang Syne" and a large and diverse catalog of over 20 albums. He passed away in 2007 after a three year battle with prostate cancer. Dan remains a huge influence and musical hero of Don's. On November 13, 2012, Don released a double CD, Kites To Fly: Celebrating the Music of Dan Fogelberg and in January, 2013, began presenting live performances of this music.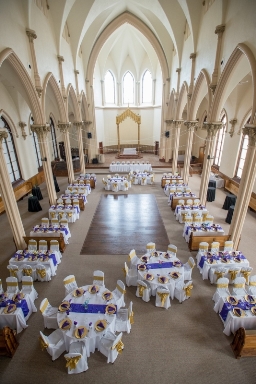 The Agora Grand Event Center is one of Maine's newest and most elegant event venues. In 2014, Andrew Knight, moved to Lewiston and purchased the former St. Patrick's Church and Rectory. In July, 2015, he began work on renovating and repurposing the church, which opened in May, 2016, as the Agora Grand Event Center.
Today, this rehabilitated quintessential masterpiece boasts nearly 15,000 square feet of space, soaring 55-foot ceilings upheld by stately columns, several restored 125-year-old stained glass windows, and the creative repurposing of many historic elements, most notably a modern bar built from parts of the pipe organ.
Special thanks to our prime sponsor:



And a big thank you to our other sponsors: