Description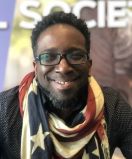 Inspired by Eric Liu's You Are More Powerful than You Think and his notion of civic power, this interactive workshop will introduce the concept of community colleges as "Civic Powerhouses" generating power in the civic life of their students and campuses. How can community colleges harness their true public purpose by educating for democracy and sending it out to making a difference in the civic lives of the community that they serve?
Join Verdis Robinson, Campus Compact's director of community college engagement, for a Community College Institute hosted by Prince George's Community College. The institute will explore model programs in diverse community colleges that are effectively advancing learning and student success through civic engagement and a strong commitment to the public purposes of higher education.
Through a series of panels, small group dialogues, and larger conversations, we will explore the unique challenges and opportunities of community colleges and their critical role in preparing students to be informed, active, and mobilized leaders in their communities, states, and the world.
Registration Cancellation Policy:
By purchasing a ticket, you are indicating a commitment to attend and will be held responsible for the registration fee. Your fee can be refunded if you notify us of a cancellation at least 7 days prior to the event via email to yates@ccmidatlantic.org.

Event Disclaimer:
CCMA reserves the right to use any photographs or other recordings taken at CCMA events in promotional materials. No recordings of any kind may be used at CCMA events without the prior written consent of CCMA organizers and presenters. The views and opinions expressed at CCMA events do not necessarily reflect those of CCMA, nor does CCMA make any representation regarding the information presented at CCMA events.