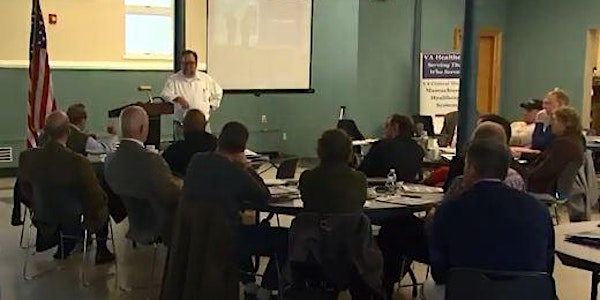 Community Clergy Training Program: Helping Veterans Access Care and Resources
When and where
Location
Moravian Theological Seminary 1200 Main Street Bethlehem, PA 18018
Description
This free interactive training, hosted over four weeks in the month of March, is co-sponsored by the VA National Chaplain Center and Moravian Theological Seminary.
Space is limited please REGISTER to RESERVE your seat NOW.
Many Veterans and their family members seek help for their problems from clergy because they feel the faith community can provide anonymity, confidentiality and a stigma-free environment. Yet clergy members sometimes have limited knowledge about readjustment difficulties and the unique health issues such as post traumatic stress that are common to returning warriors.
The Community Training Partner Initiative offers critical resources to educate and support the faith community.
Training Information
Four Three-Hour Modules offered on Thursdays in March: 3/7, 3/14, 3/21, and 3/28
Lunch and CEUs will be provided for all training dates courtesy of Moravian Theological Seminary.
________________________________________
Thursday, 3/7- Module 1: Military Culture and the Wounds of War
Explore underlying conflicts between military & civilian cultures.

Increase understanding of the potential needs of assistance among those returning from war.

Increase understanding of the challenges of re-integration into family & community after war.

To consider potential roles of clergy in providing assistance with Veteran care.
Thursday, 3/14- Module 2: Pastoral Care for Veterans and their Families
Improve pastoral care skills to better serve Veterans, service members & their families.

Present the narrative approach to pastoral care to include the roles of past, present & future.

Consider the roles of clergy in community pastoral care.

Review pastoral responses to & resources for Veteran care, especially regarding moral injury.
Thursday, 3/21- Module 3: Mental Health Services and Referrals
Review national trends in mental health care.

Review resources for mental health care available.

Provide specific information on making referrals to VA mental health care & community mental health.
Thursday, 3/28- Module 4: Building Community Partnerships
Review the potential for congregations to be communities that support re-integration of Veterans back into their settings.

Describe some successful community efforts in helping Veterans re-integrate.

Identify opportunities for ministry with Veterans in your community.