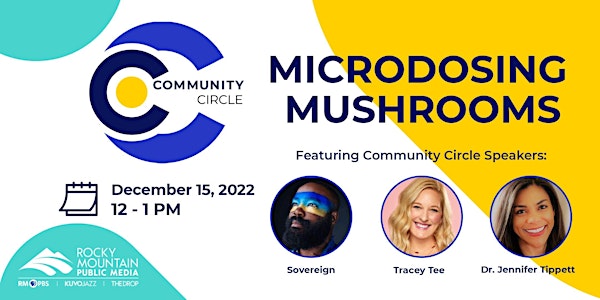 Community Circle: Micro-dosing Mushrooms
Come join the conversation!
About this event
In response to our story on RMPBS.org we wanted to engage the community in a more robust conversation. If you'd like to watch the video, scroll down. Please join us as we host our panel of speakers including: Sovereign Oshumare, Tracey Tee, and Dr. Jennifer Tippett.
Speaker Bios:
Sovereign Oshumare serves as catalyst, curator, educator, and alchemist of systemic change. As the Founder and Co-Creator of ALKEMI Consulting and Development, Sovereign collaborates with individuals, organizations and movements, through the transmutation of cultural, interpersonal, contextual, and ecological design, specializing in the psychedelic space.
Sovereign is also the founder of XRYSALIS and co-founder of Shelterwood Collective. XRYSALIS is a retreat created to activate, empower, and heal LGBTQ People of Global Majority through the cultivation of community infrastructure. Shelterwood Collective is a 900 acre ecovillage and retreat center led by LGBTQ Black and Indigenous people for the building, healing, and restoration of land and people.
Sovereign earned a Bachelor of Arts in Sociology, Ethnic Studies with a concentration in Race and Resistance Studies from San Francisco State University. Sovereign completed their Masters in Resilient Leadership at Naropa University, graduating May 2020. They are interested in psychedelics as a catalyst for transformation and believe that the work to make the world a better place is a shared responsibility, and we cannot expect others to fight for our liberation without fighting for theirs.
Tracey Tee has been actively involved in the momosphere for over 10 years, first co-creating and staring in the nationally touring cult-hit comedy show for moms: The Pump and Dump Show (2012) while simultaneously co-producing Band of Mothers Podcast with Warner Bros and serving as co-founder and CEO of The Pump and Dump Show's umbrella brand: Band of Mothers Media. During the pandemic, and during her own journey with psilocybin Tracey began to feel called to support moms in a deeper and more meaningful way. In 2022 she launched an online microdosing course created exclusively for moms called (haha) M.O.M. which stands for "moms on mushrooms." Tracey's goal is to bring moms together through the sacred use of plant medicine for a shared journey of personal growth and healing.
Moms on Mushrooms is 100% the most fulfilling, challenging and aligned pursuit Tracey has ever embarked upon, and she is dedicated to crafting a supportive container for mothers that embodies the Divine Feminine, gives reverence to our elders and original cultures, and hopefully acts as an example of a redefined way to engage in a New Earth, consciously created model of "doing business."
Tracey is a 3rd generation entrepreneur and 3rd generation Colorado native. She resides in Denver with her tween daughter, husband of 20 years and their three dogs. For the record, Tracey does *not* recommend three dogs.
Dr. Jennifer Tippett is a Licensed Clinical Forensic Psychologist. Dr. Tippett has worked throughout the Denver Metro area, as well as New York, Boston, and Los Angeles in multiple settings including correctional, inpatient, and outpatient. Dr. Tippett has been trained primarily in Harm Reduction to address addiction, and teaches from that theoretical framework. As the director of the Substance Use Disorder specialty program, Dr. Tippett is passionate about training graduate students to be responsible and informed clinicians. She enjoys providing informative and engaging coursework that prepares her students to become leaders in the field of addiction psychology. Dr. Tippett's primary research interests include psychoactive/psychedelic substances as viable treatments for mental illness and addiction.