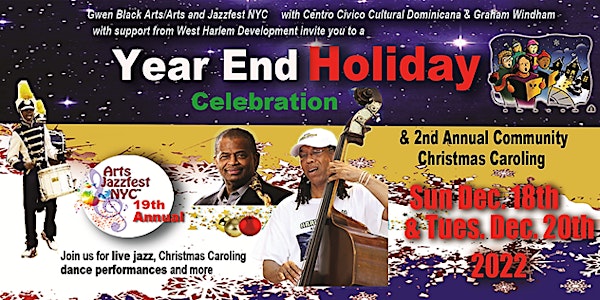 Community Christmas Caroling, Tree Lighting & Holiday Celebration
Join us for Arts and Jazzfest NYC(tm) Year End Holiday Celebration & Community Christmas Caroling on Dec 18th and Dec 20th in West Harllem
When and where
Location
Montefiore Park Montefiore Square Hamilton Place, 137th Street New York, NY 10031
About this event
The Christmas Holidays are here and we invite you to celebrate the end of the year with us.
Join us on Sunday, December 18th with Community Christmas Caroling, a Tree Lighting presented by the Montefiore Park Neighborhood Association & a Free Year End Holiday Celebration at the Montefiore Park Plaza @138th & 137th Streets and Broadway.
Join us at 5 pm for the kick off mini parade with the Marching Cobras (courtesy of Graham Windham) followed by the Tree Lighting at 5:30 pm followed by the Community Christmas Caroling with great Live Jazz Music, Hot Chocolate, and Holiday Treats at 6:15 pm
The Year End Holiday Celebration continues on Tuesday, Dec. 20th from 3-7 pm at the Manhattanville Community Center for a day of holiday art activities, live jazz performances, dance performances, holiday treats & more.
RSVP is required for Tuesday Dec. 20th (space is limited at the Manhattanville Community Center). RSVP at artsandjazzfestnycinfo@gmail.com, EventBrite, or via our website at www.artsandjazzfestny.com
Special Thank You to the West Harlem Development Corporation (WHDC), Harlem Community Development Corporation (Harlem CDC), LMCC (Lower Manhattan Cultural Center) Creative Engagement Grant, Sugar Hill Communications Institute Inc, Montefiore Park Neighborhood Association, Centro Civico Cultural Dominicano, Harlem World Magazine, Graham Windham, Pop Social Enterprise, LLC (formerly ParentJobNet), POP Fabrics, Inc, the Onaje Allan Gumbs & Sandra Gumbs ArtsJazz Foundation, Groove With Me, and Harlem Public Arts Project for their sponsorship and community partnerships
This year marks our 19th Anniversary for Arts and Jazzfest NYC(tm) and we appreciate everyone's support over the years!!! Please visit our website for our event calendar and upcoming Jazz By The Water(tm) Concert Series summer 2023
Thank you to everyone for their continuous support--we greatly appreciate it!!!