Description
Community Champions Gala is our time to recognize our local superheroes, celebrate the hardwork we have done together and thank you, our community champions, for your hard work and dedication. The gala honors individuals who have dedicated their lives to furthering the civil, social and economic rights of Asian Americans, Native Hawaiians, and Pacific Islanders in Georgia.

The gala, a sit-down formal dinner, is our largest event of the year. It typically brings together 350-400 guests, including elected officials, established and emerging community and business leaders from several local Asian American communities.
Key Note Speaker: Karen Korematsu
Karen Korematsu is a civil rights advocate, public speaker and public educator and the daughter of the late Fred T. Korematsu, a civil rights activist who challenged the legality of the internment of Japanese Americans during World War II.

Community Champion Award: Azadeh Shahshahani
Azadeh N. Shahshahani is a human rights attorney based in Atlanta. She is the Legal & Advocacy Director for Project South and works to protect the human rights of immigrants and Muslim, Middle Eastern, and South Asian communities. She has served as the Chair of Georgia Detention Watch, a network of community organizations that has been advocating for the shutting down of detention centers in Georgia.
Community Champion Rising Star: Representative Bee Nguyen
Bee Nguyen is a State Representative from District 89. She cares about representation and voices at every level of public discourse. Daughter of refugees from Vietnam, Rep. Nguyen fights against discriminatory policies targeting women, the LGBTQ community, the refugee and immigrant communities. Rep. Nguyen is also the founder of Athena's Warehouse, a nonprofit that empower underresourced high school girls in Atlanta.
---
A big thank you to our sponsors (updated Oct 2)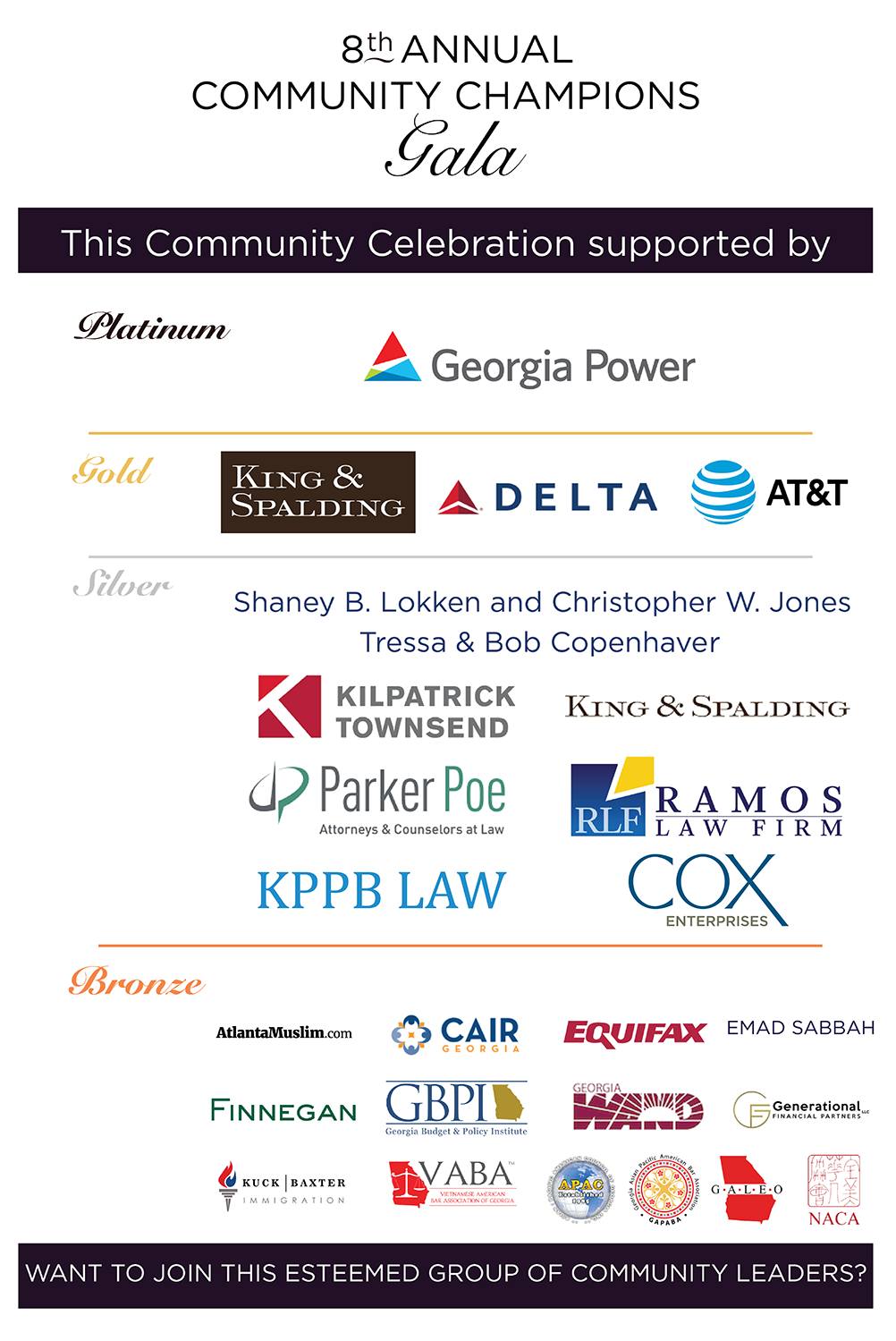 Host Committee:
9to5 Georgia
Chinese Southern Belle
DJ Lillie
Dr. Tung Nguyen
Raymond Partolan
Sakib Qureshi & Sameera Fazili
Satyam Barakoti & Tonja Holder
Pay by Check:
Please write checks payable to "Asian Americans Advancing Justice-Atlanta" and send to:
5680 Oakbrook Parkway, Ste. 148
Norcross, GA 30093
Contact Satyam Barakoti at sbarakoti@advancingjustice-atlanta.org or call the office at 404-585-8446 for any questions.
Organizer of Community Champions Gala
Asian Americans Advancing Justice – Atlanta is the first and only nonprofit legal advocacy nonprofit dedicated to the civil rights of Asian Americans, Native Hawaiians, and Pacific Islanders (AANHPI) in Georgia and the Southeast.
We work in four major program areas: public policy; legal education and support; civic engagement; and defense of rights for Asian Americans, Native Hawaiians, Pacific Islanders, and other underserved communities.
We are one of five independent organizations that make up the national Asian Americans Advancing Justice. Together with our affiliates in Chicago, DC, Los Angeles and San Francisco, we bring more than 100 years of collective experience in addressing the civil rights issues faced by Asian Americans and other vulnerable and underserved communities.