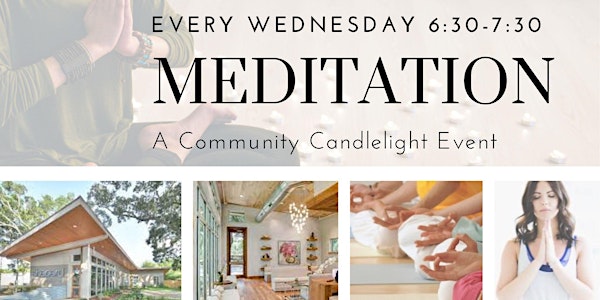 Community Candlelight Meditation
Join us every Wednesday 6:30 - 7:30 PM for a beautiful Community Candlelight Meditation! De-stress, Relax and Connect!
When and where
Location
Sheperd Integrative Dermatology 912 Old Georgetown Road Mount Pleasant, SC 29464
About this event
Details:
Join us every week for this beautiful Community Candlelight Meditaiton! This meditation is partly-guided and partly-silent offering deep relaxation, healing and spiritual growth; encouraging each individual to connect with their own Heart for answers to life's questions with this general format:
Announcments and introductions
10-20 Min. guided meditation
10-20 Min. silent meditation
5-10 Min. group discussion
Closing with a blessing
Those who attend this class regularly seem to develop a sense of: calmness, kindness, compassion, happiness, acceptance and an overall more positive outlook on life, for themselves, others and humanity at large.
Top 5 Benefits of Group Meditation:
Reduce stress
Relaxation
A quiet mind
Sense of Oneness
Make friends with like-minded community
What to Wear & Bring:
Wear: Come as you are. Be comfortable. You may like to dress in layers
Bring: Limited seating (see photos) so you may like to bring a yoga mat, blanket, pillow or cushion, incase you sit on the floor. Optionally, you may like to bring a water, journal, pen, eye-pillow or anything else that helps you feel comfortable.
Location:
(Deep gratitude to the Sheperd's for providing a gorgeous space for us to use!) Walk through the oak tress, garden or labyrinth before or after class!
Sheperd Integrative Dermatology
912 Old Georgetown Rd.
Mt. Plesant, SC 29464
Time:
Every Wednesday - 6:30 - 7:30 PM (ET)
Please arrive 5 - 15 minutes early to get settled in.
Door's lock proptly at 6:30 PM!
Teacher Schedule:
Questions? Connect with one of our community teachers:
1st & 3rd Wednesday's - Jennifer Michaels
2nd & 4th Wednesdays - Kristen Yost
5th Wednesday's - Laura Barron
Prices:
Suggested donations - $20
Donate at door or pre-here here on Eventbright!
Giving Back:
10% of proceeds go to support the Magdalene House of Charleston and 180 Place
See you soon!
Walk-in's welcome! We look forward to meditating with you soon! 💕