Community-Campus Partnership Conference to Address Health Disparities
Description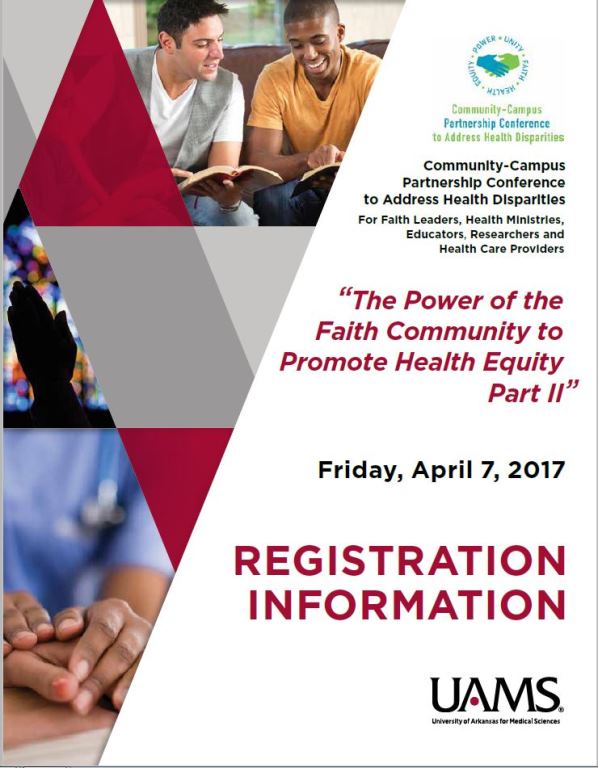 Community-Campus Partnership to Address Health Disparities
"The Power of the Faith Community to Promote Health Equity Part II"
Target Audience: Faith Leaders, Health Ministries, Community Leaders, Students, Educators, Researchers, Health Care Providers, Stakeholders and Social Workers
Purpose: To convene UAMS faculty, staff, and students with community leaders and colleagues throughout Arkansas to promote strategies that enhance the development and sustainability of community-campus partnerships in an effort to eliminate health disparities in Arkansas.
---
For more information about this year's conference, please contact Dr. Keneshia Bryant-Moore:
Office Phone: (501) 526-6698
---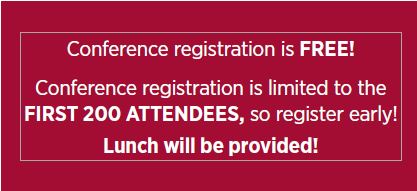 ---
Hotel & Conference Information
Four Points by Sheraton
925 South University Ave., Little Rock, AR 72204
Phone: (501) 664-5020
The Four Points by Sheraton Little Rock Midtown is centrally located at the intersection of Interstate 630 and University Avenue. Only a few blocks away, the Midtown Entertainment District is renowned for its upscale shopping at Park Plaza Mall, plus more than 20 restaurants. Our hotel is less than a mile from the St. Vincent medical center, and UAMS buildings and the University of Arkansas at Little Rock are within two miles. We are just a four-mile drive to Downtown Little Rock. Fun times await at Robinson Auditorium, Verizon Arena and the River Market District.
Room Registration:
Please book early!
To guarantee discounted room rates registration must be completed by March 24, 2017.
Room Rates:

Guest Room Rates: $91 per night
Cancellations:
Cancellations of reservations must be made at least 24 hours prior to the reservation date.
Hotel Amenities:
Complimentary Parking for overnight guests and attendees

Complimentary Internet in the meeting rooms

Complimentary WiFi in all guest rooms

100% Smoke-Free Hotel

Outdoor Pool and Fitness Center
---
Keynote Speaker: Joshua DuBois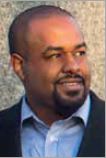 Joshua Dubois is a former White House director of Faith-based and Neighborhood Partnerships. Serving under President Obama's first term from 2009 to 2013, he developed one of the largest networks of faith-based and nonprofit relationships in the country. Currently, Mr. Dubois is founder and CEO of Values Partnership, a consulting firm that helps create community and faith-based partnerships to solve community challenges. His work with faith-based organizations has been profiled in The New York Times, The Washington Post, ABC News' This Week, PBS News Hour, and CNN among others. Mr. Dubois is a leading voice on community partnerships and brings expertise in creating and leveraging faith-based community outreach and development.
---
---
PRELIMINARY CONFERENCE PROGRAM

9:30 - 10:00 a.m. Registration & Exhibitor Booths
10:00 - 10:05 a.m. Welcome
10:05 - 10:10 a.m. Opening Reflection
10:10 - 10:30 a.m. Plenary Session: Health Disparities—Pacific Islander Health in Arkansas
11:30 - 11:45 a.m. BREAK
11:45 - 12:15 p.m. LUNCH
12:15 - 1:15 p.m. Keynote Address: Joshua DuBois
1:15 - 1:30 p.m. BREAK
1:30 - 2:45 p.m. Afternoon Breakout Session A
2:45 - 3:00 p.m. BREAK
3:00 - 4:15 p.m. Afternoon Breakout Session B
4:15 - 4:30 p.m. BREAK
4:30 - 4:40 p.m. Closing Remarks & Door Prizes
4:40 - 4:45 p.m. Closing Reflection
4:45 - 6:00 p.m. Evening Network Reception & Health Disparities Poster Session
6:00 p.m. Conference Ends
AFTERNOON BREAKOUT SESSIONS:
SERVICE LEARNING
This interactive session will provide a brief overview of service learning pedagogy. It will also include a deep look into two diverse service learning partnerships between UAMS and community-based organizations focused on education, rental housing and issues specific to low-income Arkansans. Students, instructors and community partners will discuss their experiences and facilitate conversation to apply the concepts, techniques and lessons learned to the workshop participants' own service learning projects or ideas.
"THE BRAINSTORM":
STARTING THE CONVERSATION OF ADDRESSING HEALTH ISSUES IN THE COMMUNITY THROUGH PROGRAMS AND RESEARCH
This session is a dialogue between researchers and non-researchers with a focus on generating research questions, approaches to address health disparities, and building partnerships. Topics include incarceration, depression, LGBTQ, diabetes, cancer, substance abuse, infant mortality, hypertension and community gardens.
WHAT IS CBPR?
Faith communities play a pivotal role in research as they have a greater understanding of both the health and social needs of individuals in their community. However, collaborations with faith communities to address health concerns and issues are not common across Arkansas. Research is needed to address persistent and disparate health outcomes for planning targeted interventions. This session will guide you through a systematic approach to understanding community-based participatory research (CBPR) and lays the foundation for participant engagement. Participants will walk away with an understanding of CPBR and best practice approaches for outreach.
HOW FAITH AND GOVERNMENT COLLABORATIONS CAN PROMOTE HEALTH EQUITY
When identifying social determinants of health and other factors that impact health equity, faith organizations and government agencies are often attempting to address the same issues. Unfortunately, in many instances there is a lack of collaboration to achieve shared goals. This session convenes a panel of experts from diverse areas of interest who will share available resources, current partnerships and partnering opportunities. The panel includes representatives from the Arkansas Department of Health, University of Arkansas Division of Agriculture: Research & Extension, and The CALL.
ADDRESSING MENTAL HEALTH IN THE FAITH COMMUNITY
At times, the medical community's view of mental health is different from the beliefs and ideologies of the faith community. This interactive session combines a panel of mental health professionals and faith leaders providing their perspectives on how to address mental health in the faith community. Open discussion will focus on identifying opportunities to engage in programmatic and research opportunities.
BEST PRACTICES TO ENGAGE FAITH COMMUNITIES
A variety of groups are interested in partnering with the faith community for research, programs, outreach and other purposes to address health disparities. But these questions often arise: What are the principles of community engagement? What do I need to know to engage faith communities? Where do I start? Who should I talk to? This session offers training in engaging faith communities and provides a valuable resource for participants seeking knowledge for sustainable collaborations and partnerships.
---
CALL FOR POSTERS:
COMMUNITY CAMPUS PARTNERSHIP CONFERENCE TO ADDRESS HEALTH DISPARITIES
"THE POWER OF THE FAITH COMMUNITY TO PROMOTE HEALTH EQUITY PART II"
FRIDAY, APRIL 7, 2017

Evening Networking Reception & Poster Session: 4:45 - 6:00 p.m.
(Presenters will be asked to stand by their poster for a specific time period)
Four Points by Sheraton Little Rock, Arkansas
Abstract Guidelines
Abstracts on all topics related to Health Disparities in Arkansas are welcome. Abstracts will be reviewed to determine acceptance for display. If your poster is accepted you will be required to register for the conference and attend. A good abstract helps the reader quickly and clearly understand the project. The abstract should be coherent, concise, unified and able to stand alone. The abstract headings should include Background, Objectives, Methods, Results and Conclusion. Below are some tips. Abstracts previously presented at other conferences will be considered.
Length:
Limit the abstract to 300 words or less. (Use Arial or Times New Roman in 11 or 12 font size).
Title:
Use a short title that gives a concise picture of the project (15 words or less).
Authors: List the people who developed, carried out, evaluated and/or wrote the reports for the project. Being listed as an author means recognition and credit for work as part of the project team. Usually the first author listed has the most responsibility in the work of the project. Students sometimes use alphabetical order by last name.
Headings:
Use the exact headings as provided on the fill-able abstract form in the abstract submission packet. These headings provide a framework to structure and present the work so that it is understandable to a wide audience and emphasizes the use of evidence in day-to-day practice.
ALL ABSTRACTS ARE DUE BY:
FEBRUARY 28, 2017 AT 5:00 PM/CST
Please submit all abstracts via GOUAMS.COM/POSTERAPPLICATION
If you have any questions, please contact Dr. Keneshia Bryant-Moore at KJBryant@uams.edu
---
TRAVEL SCHOLARSHIP APPLICATION
Eligibility Criteria:
Complete the Travel Scholarship Application

Be 18 years of age or older on the day of the conference

Must live a minimum of 75 miles (one-way) from the conference location
Scholarship Benefits:
One-night hotel stay at the Four Points by Sheraton in Little Rock, AR (up to $125.00)

Reimbursement for mileage or rental car (up to $125.00)
Online Scholarship Application:
https://www.surveymonkey.com/r/7M82W9N
DEADLINE FOR APPLICATION:
FEBRUARY 28, 2017
TRAVEL SCHOLARSHIP APPLICANTS WILL BE NOTIFIED OF DECISIONS BY MARCH 10, 2017.
---
This conference is a collaboration with the University of Arkansas for Medical Sciences, Arkansas Foundation for Medical Care, Baptist Health Physician Partners and the Arkansas Department of Health.
This conference is partially funded by: UAMS Translational Research Institute, HRSA Nursing Workforce Diversity Grant, a Patient-Centered Outcomes Research Institute (PCORI) Eugene Washington PCORI Engagement Award (EAIN 2975) and the Arkansas Minority Health Commission.