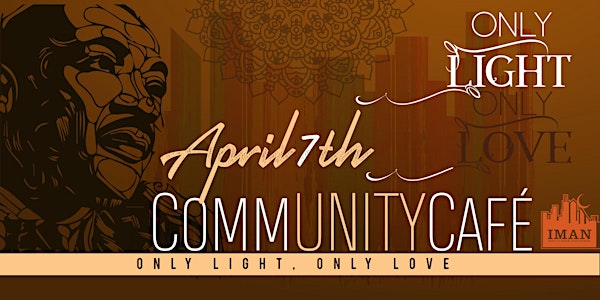 CommUNITY Café: Only Light, Only Love
When and where
Location
Harold Washington Cultural Center 4701 S. Dr. Martin Luther King Jr. Drive Chicago, IL 60653
Description
CommUNITY Café
CommUNITY Café is a live performance experience designed to connect, inspire and organize diverse communities to action. This CommUNITY Café will culminate IMAN's Only Light, Only Love week commemorating a Legacy of Power 50 years after Dr. Martin Luther King, Jr.'s assassination.
Performances by Oddisee, Sa-roc, Drea d'Nur, and Surabhi featuring Massamba Diop
Co-MCed by Liz Dozier and Liza Garza
DJed by Brother El
Live Art by Lavie Raven and Liz Lazdins
Café Hour
During "Café Hour," audiences are invited to engage IMAN's ongoing community wellness work, support local businesses and artisans, share food, and connect over artistic activities including a live band and live art. Café Hour features:
People's Paper Co-op | IMAN's Path to Restoration Bill
Jamilah's Creative Catering Services LLC
Community-Engaged Live Art by Lavie Raven and Liz Lazdins
---
Accessibility
The venue is wheelchair-accessible, please let us know in advance so that we can accommodate you. Please contact us at arts@imancentral.org at least 24-hours in advance so that we can best serve you.
Safety and Precautions
For your safety, male and female guards will be present to pat down all guests upon entry.
Parking and Public Transit
Street parking is available for guests. The venue is accessible via Chicago Public Transit (CTA): Bus: #3 King Drive, 47th Street Train: 47th Green Line, 47th Red line are near the venue.
Interested in Volunteering?
Email arts@imancentral.org to inquire about volunteer opportunities.
Revisit this page and follow @imancentral for updates.