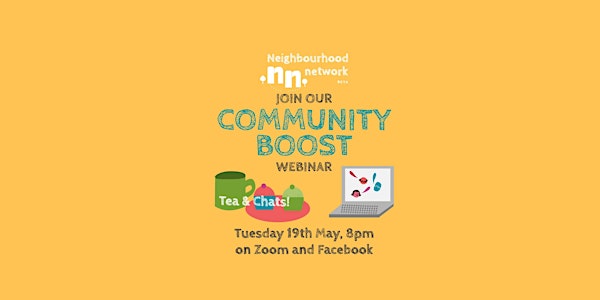 Community Boost With Neighbourhood Network
Community Boost webinar. Join us on Zoom!
About this event
Here is the Zoom link for tonight...
https://zoom.us/j/96211894257
Based in Ireland, Neighbourhood Network is a new initiative which aims to build existing and future volunteering networks around the country by connecting them, supporting them and encouraging the sharing of ideas to fortify the entire system. In this webinar, we will hear from those who are doing the volunteer coordinator work on the ground.
Neighbourhood Network will be hosting our second Live Community Boost webinar on May 19th. The Neighbourhood Network team, volunteers, and some select guests will chat about the journey Irish community support groups have taken so far during this crisis, and what the next steps are.
All are welcome to attend and no interaction is necessary, you can just listen in with the option to type a question into the chat section which will then be asked by the moderator. You also do not have to have attended the first event.
We aim to check the pulse of volunteering in Ireland and to maintain morale while moving our mission forward.
We are all seeking to gain clarity at the moment as circumstances change – to envision new ways to work with volunteers. Isolation from teammates and other volunteer coordinators can make it more challenging to find new techniques and solutions. We are here to help. COVID-19 has disrupted our days, affecting our volunteer workforces both personally and professionally.
At no other time has your kindness, generosity, and community spirit meant more. In addition to honouring your incredible reach and efforts, it is important to acknowledge the very real pressures and the personal impact of volunteering during a pandemic.
Grab a cuppa and some cake or a bun and join us for this meet up!