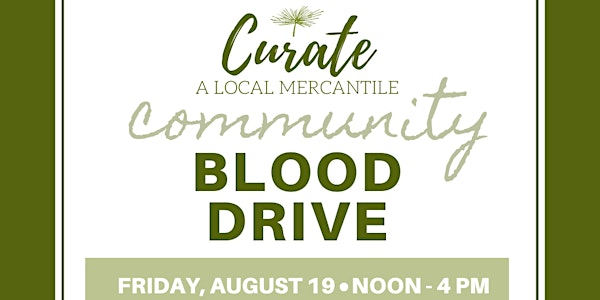 Community Blood Drive @ Curate Mercantile
Urgent Need - Community Blood Drive w/ Vitalant at Curate Mercantile in Centennial, Colorado on the Bloodmobile!
When and where
Location
CURATE MERCANTILE 8242 South University Boulevard, #150 Centennial, CO 80122
About this event
As you know, there is an urgent need for blood donations in Colorado. We've partnered with the Vitalant Bloodmobile to host our 2nd community blood drive on Friday, August 19th from noon to 4 pm at Curate Mercantile in Centennial, CO. Donors can sign up at donors.vitalant.org and enter the code 3182055 to reserve their time. All donors will receive a complimentary 'swag bag' full of goodies from Curate Mercantile! Please sign up to donate today. We appreciate your support - thank you.
(FYI - an RSVP on Eventbrite does not secure your spots. Please sign up at donors.vitalant.org and enter the code 3182055 to donate blood). #centennialcolorado