Description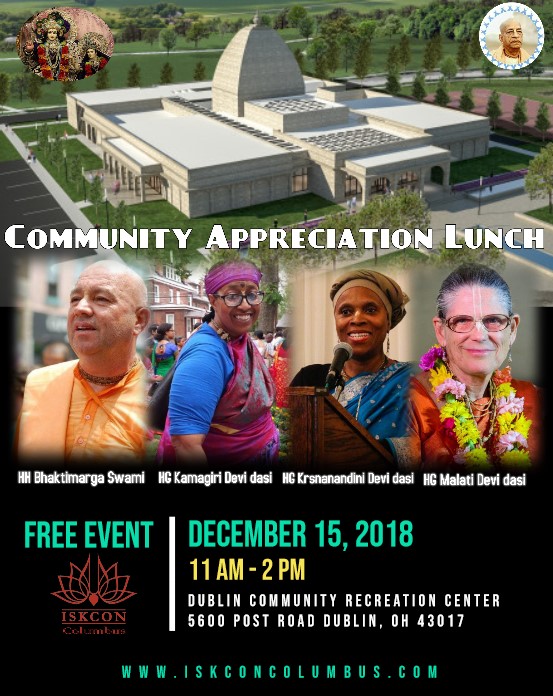 Dear friends and well-wishers,
Please accept our humble obeisances. All glories to Srila Prabhupada.
This holiday season, we are inviting the community for a special luncheon on December 15th at Dublin Community and Recreation centre starting at 11:00 AM.
We are very fortunate to have Srila Prabhupada's disciples - HH Bhakti Marg Swami, HG Malati Devi dasi, HG Kamagiri Devi dasi, HG Jadavacarya das, HG Krishnanandini Devi dasi and HG Vrakreshwar Pandit das at this event with us!

Purpose of this event is to give our entire community of devotees an update on the progress made on our new temple project and how we can all work together to manifest this temple in the next 2-3 years.
Schedule
11:00 AM - 11:30 AM: Meet and Greet
11:30 AM - 12:30 PM: Bhajans and Kirtan, followed by a talk by HH Bhakti Marg Swami
12:30 PM - 1:00 PM: Layout and design of the new temple: Naveen Krishna das/Feedback from the community
1: 00 PM - 1:15 PM Fundraising updates: Prem Vilas das/Questions from Community
1:15 PM - 1:45 PM: Strategies for working together to manifest the temple: Krish Rajaram, Yadhu Chandra
1:45 PM - 2 PM: Life membership cards: Bhakti Marg Swami
2:00 PM: Lunch Feast
Childcare will be provided.
Your servants
ISKCON Greater Columbus
(New temple committee)