Ahead of the Nov. 3 general election, two virtual Alhambra Candidates' Forums will take place for City Council and the Board of Education.
About this event
Two virtual Alhambra Candidates' Forums will take place on Tuesday, Oct. 6 and Thursday, Oct. 8, 2020. The events will be conducted over Zoom. Both events are FREE and open to the public.
1) The Community and Candidates Forum on Oct. 6 will feature Alhambra City Council candidates and will include questions from the community. RSVP on this event page.
2) The Kids and Candidates Forum on Oct. 8 will focus on candidates running for Alhambra Unified School District's School Board and will also include questions from the community. Click here to be redirected to the RSVP for the Kids and Candidates Forum.
Event Details:
Moderated by the League of Women Voters - Pasadena Area, this Alhambra City Council virtual forum will include live Spanish, Chinese, Vietnamese and ASL translation services. Community members are invited to participate in these two virtual town hall-style meetings to meet their candidates and learn where they stand on key issues facing Alhambra.
These events are co-hosted by Alhambra Source, Alhambra Latino Association, Alhambra Preservation Group and Visa Boosters. The goal of both Candidate Forums is to give those running for City Council and School Board the opportunity to discuss the various issues affecting Alhambra and provide residents with an opportunity to hear the candidates' positions on these issues. Given the many issues facing our city, the coalition invites all Alhambrans to attend this event and receive the information they need to cast an informed vote on Election Day.
The general election will be on Tuesday, November 3, 2020. Due to COVID-19, California will send mail-in ballots to all registered voters. For information on how to register to vote or to check your current voter registration information, please visit www.vote.org.
Submit a Question:
If you would like to submit potential questions for either the City Council Candidates Forum or the AUSD School Board Candidates Forum, submit them through this form OR send your questions via e-mail to education@alhambrasource.org. Note: submitting a question does not guarantee it will be presented at the forum. All questions will be vetted and organized by LWV and the co-hosts.
---------------------------------------------
Learn More:
League of Women Voters - Pasadena Area - https://my.lwv.org/california/pasadena
Alhambra Preservation Group – www.alhambrapreservation.org
Alhambra Source – www.alhambrasource.org
Alhambra Latino Association – www.alhambralatinoassociation.com
Alhambra VISA Boosters - www.visaalhambra.org/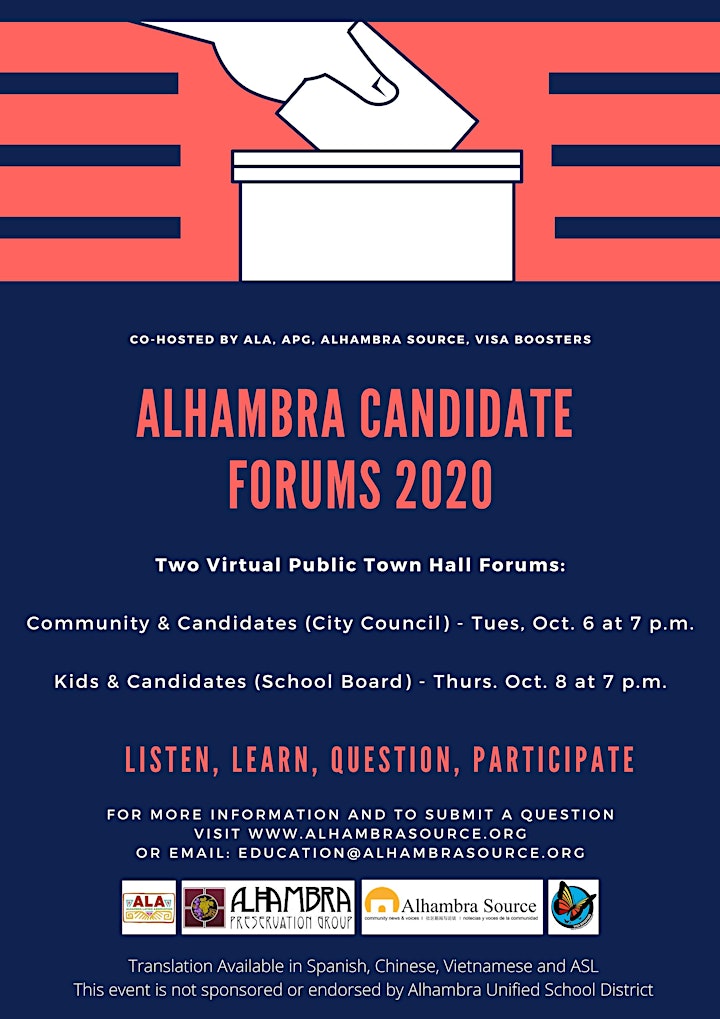 Organizer of Community and Candidates Forum - Alhambra City Council
Alhambra Source is the only local news outlet dedicated to covering the predominantly immigrant San Gabriel Valley city of 85,000. The site launched in 2010, building on two years of research by professors and students at USC Annenberg's School for Communication and Journalism investigating how local news can increase civic engagement in Alhambra and other diverse cities. Since then dozens of community members — working with professional journalists — have reported on Alhambra. The site serves as a forum for local voices, and a platform for the expression and development of writers, videographers, and photographers.
You can reach the editor, Phoenix Tso, at editor@alhambrasource.org.