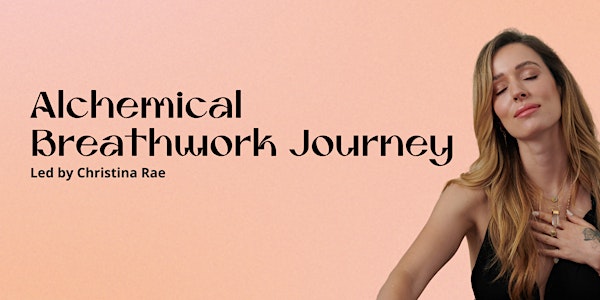 Community Alchemical Breathwork Journey
An Alchemical Breathwork Journey for our community led by Christina Rae
Refund Policy
Contact the organizer to request a refund.
Eventbrite's fee is nonrefundable.
About this event
Join us for a donation based community breathwork journey led by Christina Rae.
This will be a private group session. We will start with a meditation, move into breathwork and end with 30 minutes of processing and sharing.
All donations go to Lotus House, a womens shelter where Christina regularly volutneers.
About this event
What is Alchemical Breathwork?
As a certified breathwork facilitator, Christina will guide you through this powerful ancient healing modality that taps into the subconscious, and moves through energetic and emotional blocks. It has recently been scientifically proven that breath work helps us access DMT (dimethyltryptamine) – the psychoactive component of Ayahuasca – originating in the brain creating neuroplastic change. Through breath work, you are able to move past the controlling mind, which helps you connect to self love, joy, purpose and move through trauma, addiction, anxiety, fear and other trapped emotions.
Breathwork is a powerful way to access your body's innate intelligence to heal itself. It is a practice that is thousands of years old and no matter the style or variation, all types of breathwork offer the chance for personal transformation through improved mental, emotional, physical, and spiritual well-being.
What to expect?
Each journey is different but it is common to expect tears, laughter, and a variety of feelings and emotions to appear as we process and release layers of conscious and subconscious patterns, beliefs and behaviors. We connect via zoom or in person and I guide you through a grounding meditation that leads into 30-40 minutes of active breathing, ending with processing and integration.
The Breath
Alchemical Breathwork is a controlled and conscious 3 part active breathing practice used to awaken the inner self. Through this breath we move past the conscious mind. Together, let's experience the transformative and powerful medicine that is your breath.
About Christina:
I'm a somatic healer, breathwork facilitator and life coach based in Miami. I help people transform their lives by guiding them through their darkest times. My holistic approach to transformation is a combination of years of training and my personal life experiences with neurochemistry and somatic practices.
Through my own journey of healing past trauma and addiction, I have found deep purpose in sharing my practice. This practice saved my life, and it continues to shine light on my presence and purpose on this planet on a daily basis.
I believe we are our most ancient and powerful medicine. Our voices, breath and bodies can not only heal us but they hold deep innate wisdom and are always trying to guide us back to our truest selves. To tap into this medicine, I lead clients and groups through Alchemical Breathwork journeys, The Sah Method and somatic practices where we release the toxic emotional residue that life has left in our bodies.
My mission is to walk alongside my clients, helping them discover their own bodies primitive wisdom as they start to relate to themselves and their past in a completely new way..
Learn more about me at iamchristinarae.com