Event Information
Location
International Institute of St. Louis
3401 Arsenal St.
St. Louis, MO 63118
Refund Policy
Refunds up to 7 days before event
Description
Calling all gardeners! The Community Agriculture Conference is an annual gathering for those from the gardening and urban agriculture communities. People of all ages and abilities are welcome to attend!
The Keynote Presenter this year is Joyce Moore, Master Gardener and Master Food Preserver, as well as the Director and Programs Manager at Urban Patch in Indianapolis, IN. The goal of Urban Patch is to make the American inner city better. They focus in various areas including community gardens, food preservation, food forests and other environmental stewardship activities.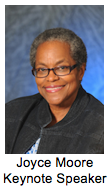 Keynote Presentation: Bringing the Past Forward - It Started with a Garden
A family's Story of Community, Building and Renewal. Joyce will describe her family's journey working in the community as place-makers, emphasizing place-staying and individual value in improving urban areas. It all started with a garden.
Along with the Keynote presentation, conference attendees will have their choice of the following breakout sessions:
Breakout Session Block #1
Irrigation with Rain Barrels
World Cuisine in Your Backyard
Container Gardening
Food Preservation, Keynote Speaker Joyce Moore
Breakout Session Block #2
Seed Saving for All Ages
Orchards for Small Spaces, Dean Gunderson, Gateway Greening
Growing Food for Food Pantries
Youth Garden School Integration & Maintenance Strategies
Composting & Worm Farming
Descriptions for each breakout session will be added as they are available at our website:
http://www.gatewaygreening.org/community-agriculture-conference/.
Join us and the urban agriculture community to learn and get excited for the 2019 growing season! The registration fee is just $15 ($20 if you register the day of the conference).


**If you feel like you may need financial assistance with attending this event, scholarships are available. Please visit http://www.gatewaygreening.org/community-agriculture-conference/ to apply or email volunteer@gatewaygreening.org for assistance.
Date and Time
Location
International Institute of St. Louis
3401 Arsenal St.
St. Louis, MO 63118
Refund Policy
Refunds up to 7 days before event