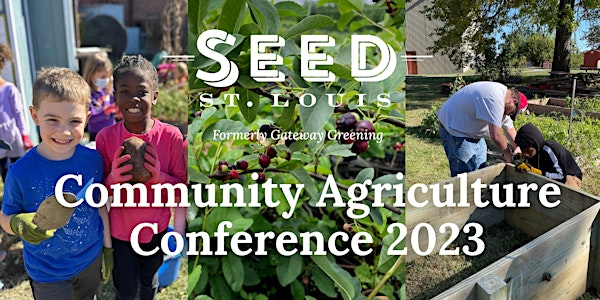 Community Agriculture Conference 2023
February 11, 2023 | In-Person & Virtual
When and where
Location
Delmar Divine 5501 Delmar Boulevard St. Louis, MO 63112
Refund Policy
Contact the organizer to request a refund.
Eventbrite's fee is nonrefundable.
About this event
The Community Agriculture Conference, which is both in-person and virtual this year, is an annual gathering for those from the gardening and urban agriculture communities. People of all ages and abilities are welcome to attend! For this 14th annual conference, we're excited to welcome Tyrean "Heru" Lewis from Heru Urban Farming as our keynote speaker. Tickets for the in-person conference are now SOLD OUT! Registration for virtual conference tickets will be open until Sunday, February 5, 2023.

Conference Information
The in-person conference will take place at the Delmar Divine, the location of Seed St. Louis' office and future Demonstration Garden. There will be a limited number of tickets which will include lunch. Local organizations will also be on-site with information tables.
Location: Delmar DivINe, 5501 Delmar Blvd., St. Louis, MO 63112
Parking: Free visitor parking is available in the parking lot on Belt Avenue off of Delmar, immediately to the east of the Delmar DivINe building. A detailed map will be sent prior to the conference to all attendees. Free street parking is also available.
Check-In: Check-in starts at 8:00 a.m. with the conference beginning at 8:40 a.m.
Cost: $15 per person for the in-person conference which includes lunch. Scholarship registrations are available upon request. Email volunteer@seedstl.org for more information.
Virtual Attendees: The keynote presentation and three select sessions will be streamed live for free. Those are noted below. If you are attending virtually, make sure to register! Once we are closer to the event we will send all registrants the Zoom link and passcode to connect to the virtual sessions.
Keynote & Session Information
The in-person conference includes three sessions as well as the keynote presentation. Lunch is included with your registration fee. The three sessions that will be streamed for free are noted below.
Keynote Presentation: Soul Farmer, Tyrean "Heru" Lewis
Tyrean "Heru" Lewis, Founder and Owner of Heru Urban Farming in St. Louis, has worked to make real change in his community's access to high-quality healthy food. Learn how and why he started farming and what is going on at the farm. He will also discuss their farm practices and how they connect farming with spirituality, astrology, and their ancestors. The keynote presentation will be streamed.
10:15 - 11:25 am Sessions
Growing Mushrooms at Home, presented by Mike Snyder, WildWise Botanicals ~ Learn how to collaborate with fungi to successfully grow gourmet and medicinal mushrooms at home. Mike Snyder, who's been studying mushrooms for 13 years, will cover many different methods of mostly low-tech cultivation, including indoor and outdoor methods. This session will be streamed.
Farming from Scratch, presented by Tyrean "Heru" Lewis, Keynote Speaker, Founder and Owner of Heru Urban Farming ~ Learn the basic fundamentals of farming and how to get started. Our keynote speaker, Tyrean "Heru" Lewis, will include companion planting, soil, community connections, urban farming, and crop selection.
FULL SESSION: Help Pollinators & Increase Your Harvest, presented by Nicole Miller-Struttmann, Webster University; Aimee Dunlap, University of Missouri, St. Louis; Gerardo Camilo, Saint Louis University; Nathan Muchhala, University of Missouri, St. Louis; Kyra Krakos, Maryville University; Peter Hoch, Missouri Botanical Garden; Ed Spevak, Curator of Invertebrates for Pollinators, Saint Louis Zoo ~ This session will introduce you to best practices for increasing pollinators, and therefore fruit yield, using simple gardening decisions. Hear from a team of local experts what they have learned about pollination success in community gardens and orchards, from pollinator visits to fruiting success. You will leave with concrete ways to help pollinators thrive in your garden and how to increase the pollination success of your plants.
12:25 - 1:35 pm Sessions
Wild Edibles of Missouri, presented by Samantha Mendoza, Naturalist, Missouri Department of Conservation ~ In this session, you will learn about some of the finest wild edibles you can forage for in Missouri throughout the year. From watercress to gooseberries and even peppergrass, the show-me state offers many culinary possibilities. Come and see how foraging can be free, fun, and tasty! This session will be streamed.
Growing Microgreens 101, presented by Mary Densmore, Bee Simple City Farm ~ Microgreens are a perfect addition to a kitchen garden or something fun to try out in the cool winter months from your window. In this session, you will learn the basics of growing microgreens including the materials needed to grow microgreens, how to get started, a few great varieties to try out, how to use them in your cooking as well as the health benefits.
Schoolyard Animal Husbandry, presented by Melissa Breed-Parks & Jessica Mathis, Maplewood-Richmond Heights School District ~ Build student engagement in the school garden with animals! Learn how an early elementary and middle school have incorporated chickens and rabbits into their garden program, building important student skills such as responsibility and leadership. Maplewood Richmond Heights schools currently keep chickens, rabbits, bees, and worms.
1:50 - 3:00 pm Sessions
Free Plants in the Kitchen Garden, presented by Jessica Blessing-Patterson of DIG - Annuals and Perennials ~ There are many ways to get more plants and therefore more good in the garden for free! In this session, we will focus on edible plants that are easy to propagate on the cheap using fun and easy methods. This session will be streamed.
FULL SESSION: Lacto Ferment Your Garden Produce for Better Gut Health, presented by Mary McFerson ~ Learn how to use the wild fermentation process to transform your garden produce into delicious, immune-enhancing food that helps support a more diverse gut microbiome. The art of lacto fermentation has been practiced worldwide for centuries and we'll also discuss other popular foods & ways to ferment. During this hands-on session, you will make a classic sauerkraut for you to take home.
What is Therapeutic Horticulture?, presented by Lisa Ann Douglas, Healing Seeds of Eden, LLC ~ In this presentation, you will learn the difference between Horticulture Therapy and Therapeutic Horticulture. You will also gain an understanding of how working with plants indoors or outdoors can impact mental health and how it improves overall well-being year round.
Land Trust Garden Update, presented by Matt Schindler, CEO, Seed. St. Louis ~ Gardens that are members of our Land Trust are invited to this session to learn more about the trust and our plans for the future. Learn more about the Land Trust as well as the list of participating gardens and orchards at https://seedstl.org/land-trust/.