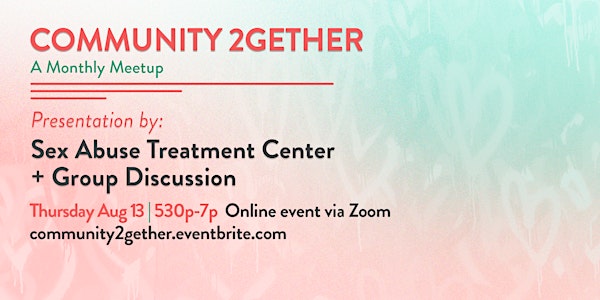 Community 2gether - A monthly meetup
An online presentation from the Sex Abuse Treatment Center of HI & panel lead discussion talking about Sexual Abuse and Misconduct .
About this event
THIS IS A FREE EVENT
We invite you to our first Community 2gether event on Thursday, August 13th. This months presentation will be lead by the staff at the Sex Abuse Treatment Center of Hawaii (SATCH)
Due to the recent climb in COVID-19 cases on Oahu, we have partnered with The Sex Abuse Treatment Center to replace our original Community 2gether event with a webinar that will take place via Zoom.
If you have registered or are planning to register for this Thursday's event, the Zoom link and passcode will be sent to you via email. To ensure that this is a safe space for everyone to learn and be heard, the presentation will be hosted and monitored entirely by SATC. If at any time during the presentation you have a question, you may utilize the Q&A feature to anonymously submit your question to be screened by our host before it is answered or made public. Changing this event to a webinar will allow you to tune in to the presentation and will give you the freedom to pause, stretch, or leave the presentation if you feel overwhelmed. Should you need additional support, the SATC hotline will be available to you.
We've been working closely with The Sex Abuse Treatment Center over the last month and a half to ensure that the material of this presentation (a version of their Sexual Violence 101 course) will serve as a resource for those who may not have any knowledge about sexual violence or for those who may not know what resources are available to them in Hawai'i. SATC will cover a range of topics including key definitions, statistics, consent, myths, how to handle disclosure of an assault, and how to navigate getting help for yourself or a loved one.
Please consider joining us this Thursday as we continue to learn and unlearn. Registration is free.
-----------------------------------------------------
These will be monthly meetups where our community can gather and discuss the issues that surround us.  These topics include but are not limited to; substance abuse, mental health, sexual abuse & misconduct, & depression for example.  Many of these will be lead by experts and trained professionals of the topic being discussed.  A panel lead discussion will follow where people can share their stories and ask questions in a safe and comfortable environment.
The purpose is for us to learn and grow together.  To share perspective and educate ourselves on how we can each make our community stronger and more compassionate.