Description
Communities Talk!
Day One and local partners invite you to attend this special series at a location near you to raise awareness about underage drinking and other drug use and to learn about community solutions.
WHAT: Townhall Meeting to Prevent Underage Drinking & Other Drug Use
WHEN/WHERE:
POMONA : Wednesday 10/12, 6pm-7:30pm
Indian Hill Conference Center, Multipurpose Room (1460 E Holt Ave #4, Pomona, CA 91767)
EL MONTE : Wednesday 10/19 6pm-7:30pm
Jack Crippen Senior Center (3120 Tyler Ave, El Monte, CA 91731)
PASADENA : Wednesday 10/26, 6pm-7:30pm
Villa Parke Community Center Auditorium (363 E. Villa St. Pasadena CA 91101)
FREE!
Fun and interactive!
Free Food
Free child-care provided!
Translation services available
Community Resource Fair
All are welcome!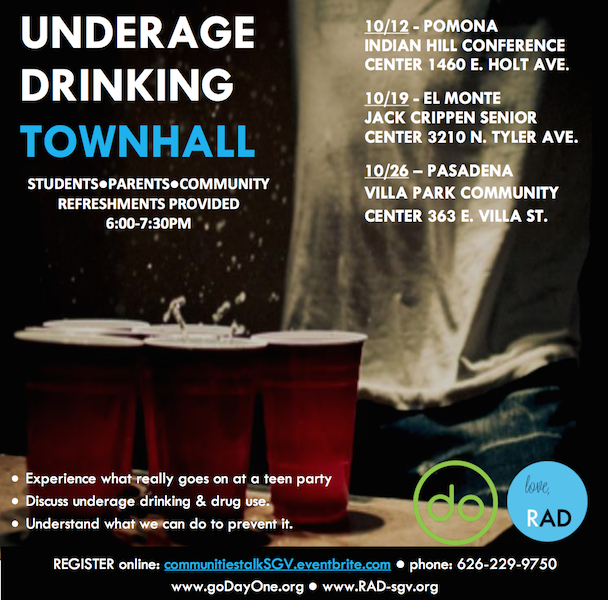 WHY?
-Alcohol abuse is the 2nd leading cause of premature death and disability in Los Angeles County.

-1 in 5 high school students in Los Angeles County report at least one episode of binge drinking in the past month.

-Underage drinking is the leading cause of accidental injury and death among teens, and a factor in half of all teen car crashes.

-696,000 college students experience alcohol-related assault every year.

-Youth who begin drinking before age 15 are 4 times more likely to develop alcohol dependence and abuse.

-National, regional and local data suggest teens most easily and most frequently access alcohol at home or someone else's house.

-Excessive alcohol consumption costs LA County an estimated $10.8 billion.

-Alcohol misuse and abuse is preventable through education and alcohol control and prevention policies.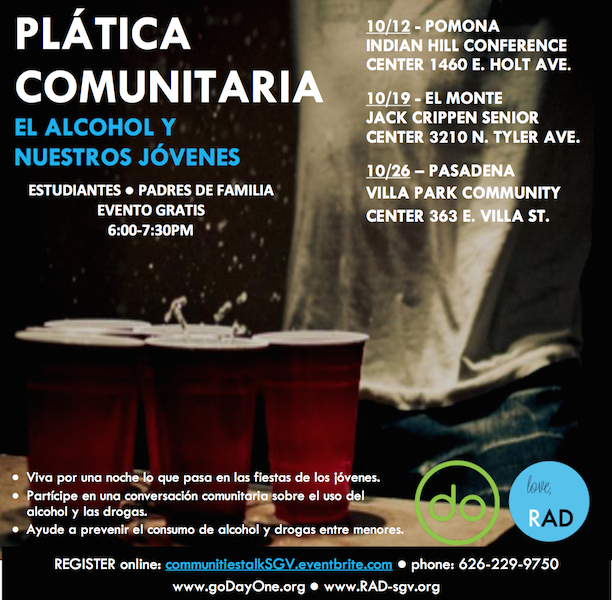 The series is made possible by the Substance Abuse and Mental Health Services Administration SAMHSA and the RAD - Rethinking Alcohol and other Drugs (www.rad-sgv.org) made up of residents and non-profit organizations in the San Gabriel Valley who collaborate on prevention education and policy to create a healthier San Gabriel Valley by reducing alcohol and other drug use. Day One El Monte Day One Pomona