2019 PRIDE MONTH KICK-OFF PARTY: CommuniTEA ONE NIGHT ONLY all of your favorites...Spill the Tea!
About this event
2019 PRIDE MONTH KICK-OFF PARTY:
CommuniTEA
ONE NIGHT ONLY all of your favorites...Spill the Tea!
All of your favorite queer collectives have joined forces to give you one unforgettable night! Join us for a night of curated cocktails, amazing DJs, and pop-up performances at the beautiful Game Room in the Chicago Athletic Association hotel.
And guess what? It's FREE.99!!! Only RSVP is required for entry!
CommuniTEA Lineup:
DJS: DJ Sandra Suave (B.Blyss), [X]P (Duro), DJ Dapper (Smallworld Collective), and Compton Q (Swoon)
Performance by: Bambi Banks (A Queer Pride)
Cocktail Curation by: Las Topos Chicas, Chi Dirty Girl,& LezBe,
Emcees/Hosts: Slo'Mo, Peach, Party Noire, & Chi Dirty Girls
Photos By: Tori (Smallworld Collective)
Full bar and food will be available for purchase, but cute curated cocktails will be available all night long!
This event is a celebration of our community and all the amazing collectives that work so hard to program for Chicago. While we love to party, each and every collective is dedicated to creating a safe and inclusive space. This means that any homophobic, racist, sexist, transphobic, ableist or fat shaming behavior or hurtful words will be taken very seriously. Additionally, unwanted sexual conduct will not be tolerated. You will be asked to leave.
All 21+ are welcome
Chicago Athletic Association hotel is wheelchair accessible
If you have any additional questions/concerns about the event or venue please contact peach@blackthreadagency.com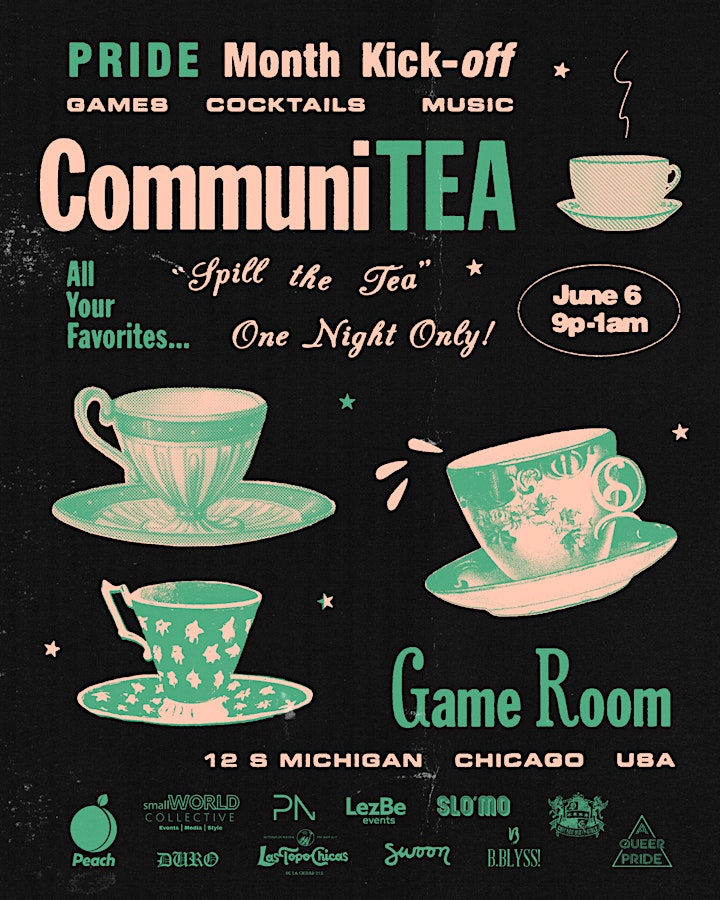 Organizer of CommuniTEA (Pride Month Kick-Off Party)
Peach is an event series and brand born and raised in Chicago that is dedicated to unifying and celebrating LGBTQIA+ women and non-binary folks through music, drinks, food, art and visually stimulating entertainment. While the brand's mission centers queer women, allies and identities across the LGBTQIA+ spectrum are encouraged to join in our safe space.