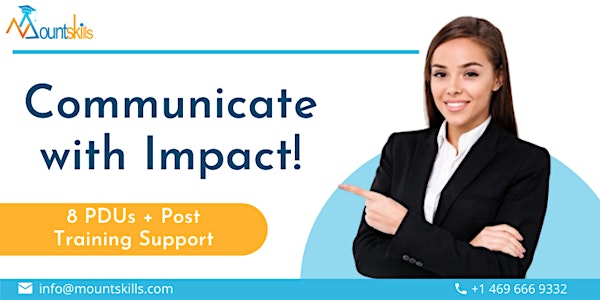 Communication Skills for Workplace Success
This training is 1 Days in total with 8 hours of fun learning environment. You get course completion certificate by Mount Skills.
When and where
Location
Mount Skills West North Ave Chicago, IL 60642
Refund Policy
Refunds up to 7 days before event
About this event
Communication Skills are the most highly valued skills in today's business environment. Successful professionals who add value to their companies communicate clearly, accurately and effectively. Poor communication skills, on the other hand, restrict even the most talented professionals from getting ahead in the business world.
This Communicate with Impact training is a cutting edge training program designed to help today's business professionals take their communication skills and effectiveness to the next level. It immerses you into the most advanced and innovative communication techniques.
You will dive deep into all forms of verbal, non-verbal and written communication, and come out with a developed sense of personal communication style that will help you to connect with, communicate to, and inspire people around you. The ability to communicate information accurately, clearly and as intended, is a vital life skill and something that should not be overlooked. It's never too late to work on your communication skills and by doing so improve your quality of life.
Learning Objectives:
Script yourself with clear, compelling and well-developed messages that reflect your thinking .
Speak with vision and a logical structure that drives home your points.
Answer questions confidently.
Develop professional relationships and networks.
Communicate with empathy and compassion .
Inspire people by appealing to their emotions.
Move from an informational to an inspirational and action oriented style when creating and delivering presentations.
Integrate effective slides into your presentations.
Become a more powerful leader and communicator by applying effective strategic planning and writing tactics for enhanced writing speed and fluency.
Agenda:
Module 1: The Science of Effective Human Communication
Module 2: Frames of Business and Communication
Module 3: Principles and Strategies for Effective Business Conversations
Module 4: Art of Giving and Receiving Feedback
Module 5: How to Listen Effectively and Accurately
Module 6: Science of Body Language
Module 7: How to look confident and charismatic
Module 8: Business Presentation Skills and Strategies
Module 9: Powerpoint Best Practices
Module 10: Principles and Techniques for Effective Written Communication
Module 11: How to write clear, concise and fast at the same time
Target Audience:
There is no Eligibility Criteria for this training, anyone can attend this training.
Course Materials:
Students will receive a course manual with presentation slides and reference materials.
Examination:
There is no exam.
Technical Requirements:
For eBooks:
Internet for downloading the eBook
Laptop, tablet, Smartphone, eReader (No Kindle)
Adobe DRM supported software (e.g. Digital Editions, Bluefire Reader)
eBook download and activation instructions.