Communication is NOT Your Problem: a relationship workshop for a happier l...
Actions and Detail Panel
Communication is NOT Your Problem: a relationship workshop for a happier l...
Sat, January 21, 2017, 6:30 PM – 8:30 PM EST
Description
If only we could communicate better...
our relationship be less complicated and more satisfying, right?

Let us help you discover the real reason you:
feel disconnected,
keep having the same old arguments,
and why communication may not the answer.





Meet other couples, and chat with our relationship experts for practical tips and advice on how to move past "communication skills" to uncover the real secret to a passionate and meaningful relationship.
Who should come:
Anyone in a serious relationship who wants to feel closer and have more fun
Couples who think "if only we could talk to each other" on a regular basis
Men and women who are ready to take their relationship from 'meh' to 'ah-mahz-ing' with simple techniques and expert insights
Everyone who believes that love should be more fun than work... and is willing to do what it takes to get to that level




What you can expect:
A laid-back vibe with experts who are focused on giving practical advice and real tips tailored to you rather than rigid 'rules' you must follow
Straight-forward techniques to help you and your partner strengthen your emotional connection, reduce conflict, and yes, even improve your communication.
A chance to rediscover the intimacy, passion, and closeness you had at the begining of your relationship
Complimentary cocktails and delicious treats while you mix and mingle with other couples while getting solid relationship advice
What others have to say about Conversations Off The Couch events: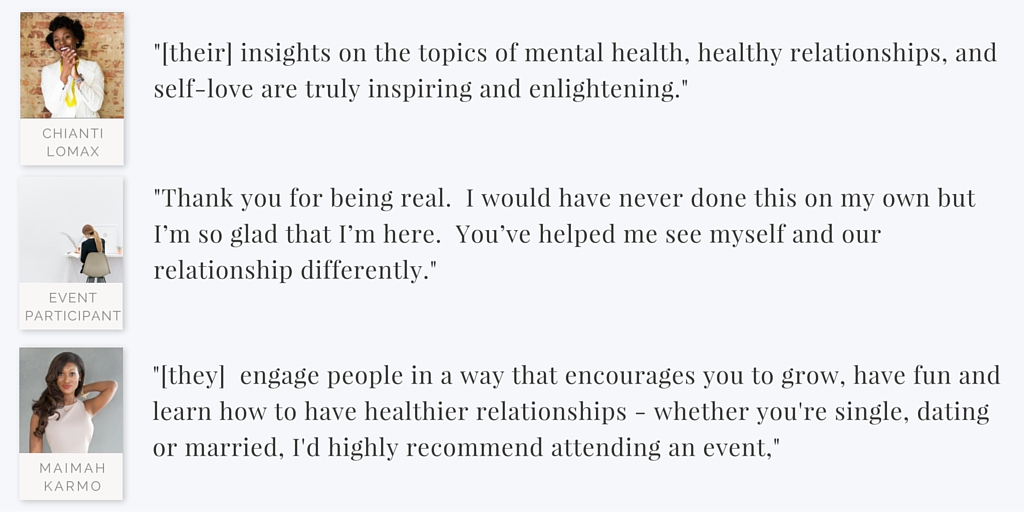 Grab your favorite couple friends and join us for a relaxed approach to better relationships!