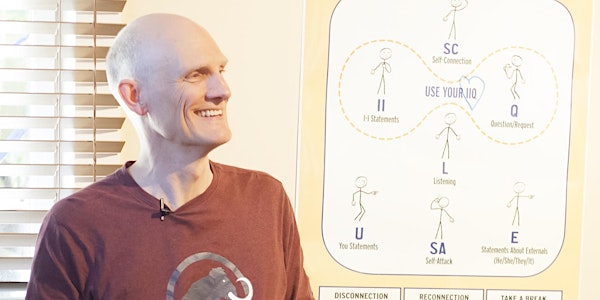 Communication Dojo - 4-week: "The Gift of Empathy - Giving it, Inviting it"
Event Information
Refund policy
Refunds up to 7 days before event
Eventbrite's fee is nonrefundable.
This is a 4-week committed series. Class times/dates: 7pm to 9pm PST on Tuesday Jan 5th, 12th, 19th, 26th, 2021.
About this event
This is a 4-week committed series. Class times/dates: 7pm to 9pm PST on Tuesday January 5th, 12th, 19th, 26th.
We're holding registration open until Jan 12th at 7pm, so you can still register if you missed the first class. You'll be able to catch up on what you missed by using our online classroom.
Sliding Scale pricing - The sliding scale pricing means we'd love to receive $340 per person for the series, since this price is chosen to support the sustainability of the Communication Dojo. However, we also want to be able to welcome those for whom the $340 price is not affordable, so we're making a range of ticket prices available.
If you'd like to participate in this course but cannot attend the live online classes, you may want to consider the "Self-Paced" version instead.
The Gift of Empathy - How to Give It, How to Ask for It
Have you had the experience of someone really listening to you and giving you a sense that they understand not just what you're saying, but what you're going through? This kind of listening is still quite rare, although more and more people are starting to realize how valuable it is. It's a vital element of truly effective, enjoyable and connected communication. Listening with empathy is a skill you can learn and develop, and that will be the focus of this series. We'll also spend some time on how you can improve the quality of connection with someone who does not know how to listen with empathy. 
We'll also give attention to how you can ask for empathy, and even improve your experience of being heard even when you don't explicitly ask for empathy. This is a chance to learn or deepen the powerful skills of "reflective listening" and "empathy guessing." And...we'll also introduce some lesser-known skills to use in situations where the person you're talking to does not like reflective listening, or is generally uncomfortable with anything that sounds like Nonviolent Communication.
The Communication Dojo is a learning environment designed for everyone, regardless of prior experience with "Connected Communication" (aka "Nonviolent Communication" (NVC)). This four week committed series format allows you opportunities to practice what you're learning between classes then to come back the next week with questions. You'll build skills, knowledge, and community week by week. 
As soon as you concern yourself with the 'good' and 'bad' of your fellows, you create an opening in your heart for maliciousness to enter. Testing, competing with, and criticizing others will weaken and defeat you.— Morihei Ueshiba, Founder of Aikido
The Communication Dojo approach is inspired in part by teaching from martial arts. This is not a lecture series. The teaching is highly interactive and there will be plenty of experiential learning in pairs and/or small groups - "learning by doing."
Some features of the Communication Dojo:
*Efficient use of class time to maximize learning*High proportion of practice time in pairs – learning communication by communicating.*Minimal reliance on "jargon" i.e. language that might be confusing or alienating for those not familiar with NVC.*Little likelihood of people developing any sense of "Doing it wrong" or "Trying to do it right."
Read more about Communication Dojo at www.communicationdojo.com
Our cancellation and refund policy: https://baynvc.org/refund-policy/
Date and time
Location
Refund policy
Refunds up to 7 days before event
Eventbrite's fee is nonrefundable.
Organizer of Communication Dojo - 4-week: "The Gift of Empathy - Giving it, Inviting it"
Newt's passion is to help people communicate with each other more deeply, to experience greater intimacy, and to find the potential for mutually-satisfying change that lies within conflict.
From his first training in 2005 Newt has set out to understand and share with others the essential core of Nonviolent Communication (NVC) - which he often calls "Connected Communication". He believes strongly in teaching the principles of NVC in a way that frees students from specialized language, and allows facility with connected communication to grow in small, quickly assimilated steps. The Communication Dojo provides Newt with an enviroment where he teaches the principles by which he lives, including his most recent insights and approaches.
Since 2006 Newt has been facilitating NVC groups, and leading public workshops and workshops in organizational settings including corporations, not-for-profit organizations, schools and San Quentin prison. He has led retreats and yearlong programs in the USA and Europe. Newt has a private practice as a consultant and coach, with particular focus on communication, conflict resolution and leadership.